Beach Tennis
ITF Bibione Cup comes in Bibione
Saturday 10 and Sunday 11 June will be an outstanding couple of days for sport on the sand.
The biggest names in Italian and international beach tennis will be heading to the Bibione coast for an action-packed weekend. Over the two days, competitors from as far away as the USA, Japan, Brazil and New Zealand will battle it out for the "ITF Bibione Cup".
It goes without saying that the top Italian players will be there, including the full Bibione team, who are the current Italian national champions. There will be men's doubles, women's doubles and mixed doubles events. Throughout the weekend, the spectacular beach tennis on display will be accompanied by entertainment, lots of music and parties. The total prize fund stands at €5,000.
For further information, click here
Events and organized tours
Find out about all the events and the activities happening in the area to make your stay unique and unforgettable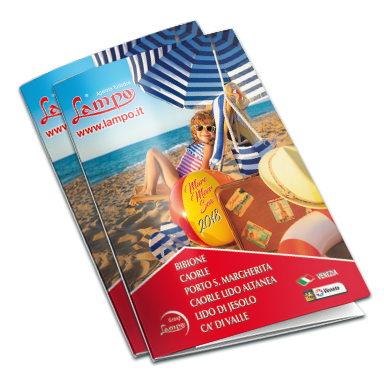 The Lampo catalog
Price lists and updated offers
Detailed descriptions of our facilities
Useful information on locations and activities available
Browse online or download the Pdf