Cavallini Sgarbi Collection
The exhibition in Portogruaro
Masterpieces that reveal the story of an infinite and passionate love hunt
A private art collection is the foundation of a symbolic system, the creation of a gym for the soul, a place where intimate, thoughtful and sometimes painful choices materialize. He often forgets that his highest vocation is to welcome the public, to offer himself to the eyes, to tell his own story.
For the Cavallini Sgarbi Collection, this has happened since February 1st in Portogruaro, at the Palazzo Vescovile, within an exciting journey over four centuries which, from the second half of the fifteenth century, will bring together the main works of the famous collection. The exhibition, organized in collaboration with the Cavallini Sgarbi Foundation, the Elisabetta Sgarbi Foundation, and the artistic direction of Contemplazioni, is organized by the Eastern Venice Tourist District (here all the useful information) and enjoys the patronage of the Veneto Region and the City of Portogruaro.
Inside the exhibition you will breathe the intimate atmosphere of a private collection, the result of Vittorio Sgarbi's passionate love hunt, carried out in tandem with his mother Rina Cavallini, who purchased the works in numerous auctions in every corner of the world . His "best man", remembered by the critic with these words: «he made himself an extension of my thought and my life. I indicated the name of an artist, the place, the auction house. And she punctually took aim and hit ».
1 ticket to the exhibition for free with each reservation and the chance to buy more tickets with a 50% discount only in our offices. Ask more info to our staff.
The Cavallini Sgarbi exhibition has been extended until the 4th of April 2021.
Starting from Thursday 11/06 and for July and August the exhibition will be open to the public in compliance with the guidelines for the Corona Virus
Thursday from 9.00 to 14.00
Friday from 16.00 to 22.00
Saturday from 10.00 to 19.00
On all other days you can arrange guided entrances for groups up to 12 people.
Find out the events and the activities in the surrounding area
Sport, events and tours for an unforgettable holiday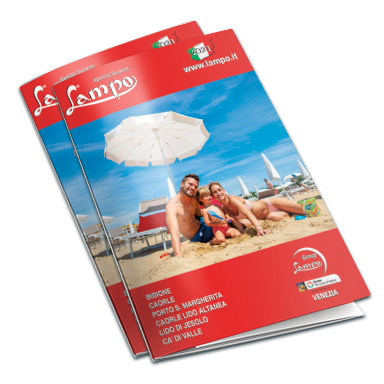 The Lampo catalog
Price lists and updated offers
Detailed descriptions of our facilities
Useful information on locations and activities available
Browse online or download the Pdf