Christmas in Caorle
Events and fun for all the family
Christmas in Caorle has never been so rich. It begins on December 22th, at 18.30, in the center of Ottava Presa with the performance of soprano Carlotta Melchiori, while at 20.30 in Piazza Matteotti will take the stage the "Ska-J".
Monday 23th, at 21.00, the hall will host the 2015 edition of "A Child is born", a benefit concert organized by Pa.Sa Production to raise funds for the Association of Children's Surgical Hospital Burlo in Trieste. Special guest the singer Francesca Michielin.
Christmas Eve, as the tradition, before the Midnight Mass, you can watch the procession, organized by the Divers Group of Caorle, which will bring the statue of the Infant Jesus from the sea to ​​Caorle Cathedral.
After Christmas, we will return to entertain on Friday and Saturday December 27th and 28th with two concerts: the choirs, hosted by the Church of Porto Santa Margherita at 21.00, and, the day after, the "Xmas Top Rock", at 16.00, in the square Matteotti in Caorle.
As always there was great anticipation for the celebration in the square, organized to celebrate the St. Sylvester Eve. From 22.00 to 4.00 am you can dance and sing in Piazza Matteotti with Frenetika, Dj Leo Effe and the Defenders. For those who will still want to celebrate the New Year, from 17.30, in Piazza Matteotti, there will be a concert by Maria Dal Rovere and, thereafter, at 19:30, the fireworks on the Sacheta Beach.
On January 2nd the musical dedicated to Little Red Riding Hood will entertain children and adults.
To celebrate the arrival of the Epiphany, Sunday, Jan. 5, to 15, in the historical center, will be delivered the sweets for children.
Do not forget that throughout the holiday season is always active track ice skating: from 21th December to 2nd February, Pope John XXIII square, you can have fun on the track prepared by the SoleLuna Collective.
Events and organized tours
Find out about all the events and the activities happening in the area to make your stay unique and unforgettable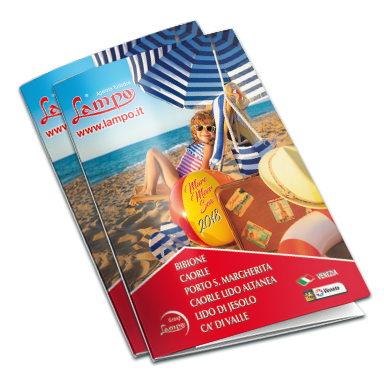 The Lampo catalog
Price lists and updated offers
Detailed descriptions of our facilities
Useful information on locations and activities available
Browse online or download the Pdf