Geronimo Stilton in Bibione
Together to help the planet
From 29 July to 4 August the journalist mouse most loved by children from all over the world will arrive on the Venetian beach to meet the small guests of the locality and explain to them the simple daily gestures that can help our planet.
In the "Green Village of Geronimo Stilton" which will be set up in the area of ​​the Village Arenile in front of Piazzale Zenith, will follow one another both in the morning and in the afternoon (from 11am to 1pm and from 2pm to evening, with different closing times depending on the day) fun workshops with the fantastic Tea Sisters on the themes of sea conservation, healthy food, energy and eco-sustainability, but also eco-sustainable treasure hunts and the unmissable moment dedicated to the "Geronimo Stilton Garden".
Of course, the great protagonist of the event will not be missing: Geronimo Stilton in fur and mustache will meet and entertain his young fans in a double date and will also be available for souvenir photos and autographs (on July 29th at 9.30 pm in piazzale Treviso, August 2nd at 9 pm in the municipal park Bibione Pineta, viale dei Ginepri). Other moments of meeting with the famous journalist mouse will be held on 3 (at 12 and at 18) and on 4 August (at 18). Among the numerous other appointments, we point out finally the kitchen and entertainment laboratory with the Tea Sisters (July 31 from 5 pm) and of course the final show with greetings from Geronimo Stilton and the Tea Sisters (August 4 at 9.30 pm in Piazza Treviso).
Events and organized tours
Find out about all the events and the activities happening in the area to make your stay unique and unforgettable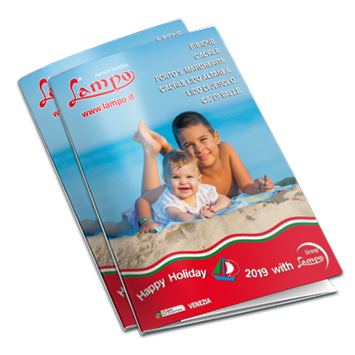 The Lampo catalog
Price lists and updated offers
Detailed descriptions of our facilities
Useful information on locations and activities available
Browse online or download the Pdf