Jesolo Christmas Village
A magic Village for Christmas in Jesolo
From November 26 to January 8, 70 elegant white wooden houses, embellished with lights and decorations, will exhibit handicrafts, Christmas objects and decorations, sweets and delicacies of all kinds between Piazza Mazzini, Via Trentin and Piazza Aurora.
The streets are filled with colors and music: fun is guaranteed with the ice rink, traveling shows, dances and entertainment for children.
News of the year is the great Santa Claus House where Santa Claus and his elves welcome the little ones.
Inauguration on Sunday 27 November with the lighting of the two large Christmas trees that illuminate the squares, making the atmosphere unique: at 4.00 pm the tree in Piazza Mazzini lights up and at 5.00 pm the tree in Piazza Aurora.
The market is open every day, except on 28-29-30 November and 1-5-6 December.
Open time:
weekdays from 14:00 to 20:00
public holidays from 10:00 to 20:00
on December 31st houses with administration are open from 10:00 to 03:00
December 25th and January 1st from 2pm to 8pm
Find out the events and the activities in the surrounding area
Sport, events and tours for an unforgettable holiday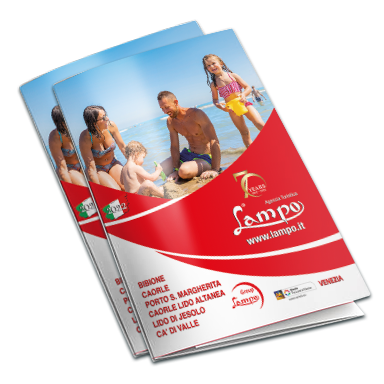 The Lampo catalog
Useful information for your reservation
Detailed descriptions of our facilities
Useful information on locations and activities available
Browse online or download the Pdf