Jubilee of Mercy
The Holy Door in Bibione
On the occasion of the Jubilee of Mercy wanted by Pope Francesco, Bibione will be one of eight doors that will open for the Diocese of Concordia-Pordenone.
On May 27, at 21.15, the Bishop Giuseppe Pellegrini will open the Holy Door of the church of Santa Maria Assunta.
Following the summer will see a full calendar of events dedicated to those who, while on vacation, will follow the path of faith and prayer. They have organized days of missionary solidarity with Bibione Charity for Family that will help raise funds for the mission in Mozambique and to the Mother of Life House in Pordenone.
Throughout the summer you can visit the permanent exhibition with the works of mercy by Edizione Missionaria Italiana and you can follow the season of organ concerts of Bibione.
On 7th July and 8th August it will take place "Night under the stars", with the Holy Mass on the beach and the animation of the gospel choir of San Michele al Tagliamento.
Do not miss all of the upcoming events: www.parrocchiabibione.org
Events and organized tours
Find out about all the events and the activities happening in the area to make your stay unique and unforgettable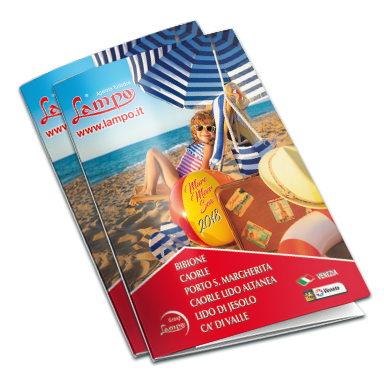 The Lampo catalog
Price lists and updated offers
Detailed descriptions of our facilities
Useful information on locations and activities available
Browse online or download the Pdf