Moonlight Half Marathon
The most impressive run of Jesolo is coming back
Saturday, May 26, 2018 will start at 20.00 hours the Moonlight Half Marathon of Jesolo.
The Moonlight Half Marathon is organized by the Venice Marathon Club together with the Municipality of the City of Jesolo and Cavallino.
The route of 21.097 km (or the shorter version, 10 km) connects the towns of Cavallino and Jesolo: a fast and flowing track, which runs between the lagoon and the sea just during sunset.
Departure at 20:00 from Frontemare San Felice in Cavallino. After skirting the characteristic canals, the athletes will be fascinated by "cavane", typical remittances for small boats, and the huge fishing nets used by the inhabitants of these areas. After passing the center of Cavallino, the overpass that crosses the river Sile and connecting the two towns. From West of Jesolo will continue on the Promenade of the Artists, the famous promenade along the Jesolo coastline, to go towards the center through Via Ugo Foscolo and Via Silvio Trentin, and then reach the finish line in Piazza Mazzini, in the heart of Jesolo Lido.
Events and organized tours
Find out about all the events and the activities happening in the area to make your stay unique and unforgettable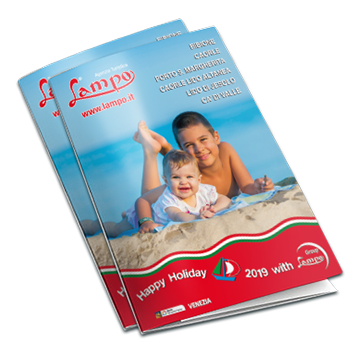 The Lampo catalog
Price lists and updated offers
Detailed descriptions of our facilities
Useful information on locations and activities available
Browse online or download the Pdf