Portogruaro – Concordia Tour
Guided tour and sailing
Lampo Group and Veneto Orientale Tours offer a wonderful experience to their guests:
Wednesday afternoon – Tour between Portogruaro and Concordia Sagittaria with navigation on the river Lemene.
Transfer by bus from Bibione / Caorle in the early afternoon, meeting with the multilingual guide and visit to the medieval town of Portogruaro and its buildings, tasting in a typical restaurant, travel by boat along the river Lemene up to Concordia Sagittaria, visit to the Roman excavations at the Basilica and the Baptistery. Return with bus to Bibione / Caorle at about 18.30.
The next dates are:
June 6th
June 13th
June 27th
Search our site for SPECIAL OFFERS + FREE EXCURSION or buy your visit directly at Lampo Agency for € 20.00 per person.
Events and organized tours
Find out about all the events and the activities happening in the area to make your stay unique and unforgettable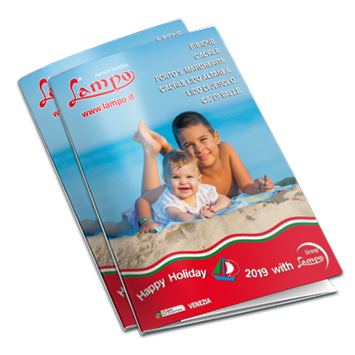 The Lampo catalog
Price lists and updated offers
Detailed descriptions of our facilities
Useful information on locations and activities available
Browse online or download the Pdf