Taste the 500
"Sardee in grea" to honor the legendary regatta!
To honor the first mythical regatta in the Mediterranean, the city of Caorle organizes a gastronomic event of the highest level: Taste the 500 in the splendid context of the Fishing Port.
Defined as the "queen of offshore regattas" and ideal for two skippers, it follows the route that goes from Caorle to the Tremiti Islands and back, sailing and non-stop! An event that attracts crews and enthusiasts from all over the world.
On Friday May 24th at 6:00 pm the official opening of the event will be held with the ribbon-cutting ceremony at the Fishing Port, followed by the Showcooking with chef Paolo Forgia (Italian Federation of Chefs).
At 7.30 pm the appointment will be with the "Sardee in Grea" gastronomic competition: you can watch the challenge, with grilled sardines, among fishermen and sailors to win the title, awarded at the end of the evening, of king of the grid! Leading the 2019 edition, which will take place directly on the docks of the marina, will be Stefano Cantiero, a food and wine journalist, with the participation of the "Il Veneto Imbruttito" couple, an expert in Veneto lifestyle!
Saturday 25 from 21:00 in Piazza Matteotti there will be a concert (free admission) by Fabio Supernova, while on Sunday, around 2.00 pm, the regatta will start in the stretch of sea in front of the city
Events and organized tours
Find out about all the events and the activities happening in the area to make your stay unique and unforgettable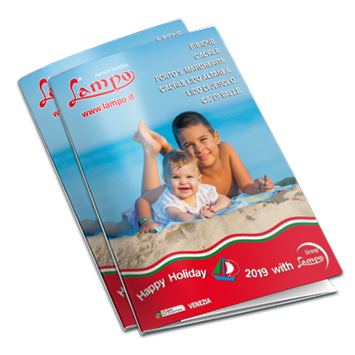 The Lampo catalog
Price lists and updated offers
Detailed descriptions of our facilities
Useful information on locations and activities available
Browse online or download the Pdf