The Gospel of Giotto in Bibione
Presentation of the Scrovegni Chapel
In Bibione at the Church of Santa Maria Assunta the exhibition The Gospel according to Giotto is inaugurated, a faithful photographic reproduction, on a 1: 4 scale, of the walls of the Scrovegni Chapel that Giotto frescoed over seven centuries ago, between 1303 and 1305, on commission of the Paduan banker Enrico Scrovegni.
The Scrovegni Chapel in Padua is unanimously recognized as the highest expression of medieval art. The pictorial cycle focuses on the destiny of man through the narration of the salient facts of the history of salvation, which begins with the scene of Gioacchino's Expulsion from the temple and winds along the walls in 38 harmoniously distributed scenes on three overlapping registers depict episodes from the life of Mary and Jesus, his Passion and Resurrection.
The lower part of the walls is completed by the monochromatic allegories of the Vices and Virtues, the two roads that decide the eternal destiny of man represented by the Last Judgment painted in the counter-façade.
After the 2002 restoration, for conservative reasons the time allowed to admire the frescoes was reduced to a few minutes; the exhibition, therefore, offers the opportunity to look at them with the time necessary to grasp the iconic poetry of vertical and frontal correspondences, of the symbolism of colors, of numbers, of architectural perspectives.
The exhibition is open every Saturday (from 5pm to 8.30pm), every Sunday from 9.30am to 12.30pm and from 6pm to 8pm, and also on request. He will remain in Bibione until early September.
Presentation WEDNESDAY 17 April at 8.30 pm with the presence of the curator Prof. Roberto Filippetti.
Events and organized tours
Find out about all the events and the activities happening in the area to make your stay unique and unforgettable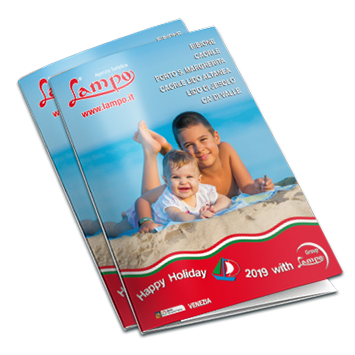 The Lampo catalog
Price lists and updated offers
Detailed descriptions of our facilities
Useful information on locations and activities available
Browse online or download the Pdf