Tiramisù World Cup
The most delicious challenge of the year arrives in Bibione!
On 22 and 23 June 2019, at the end of the Eastern Venice Gourmet Week, the Tiramisu World Cup arrives in Bibione, the most delicious challenge of the year that rewards those who really make "the best tiramisu in the world".
Now in its third edition, the event touches the Adriatic sea for the first time with an official selection that allows direct access to the final phase of the event, from 1 to 3 November in Treviso.
80 competitors, strictly non-professionals, can register for the race in the preparation of Tiramisu in its original version (savoiardi, mascarpone, eggs, sugar, coffee and cocoa) or in the creative one (with the possibility of adding up to three ingredients and changing the biscuit). Participants will have 40 minutes to make the perfect slice and then a jury armed with a spoon will decide the best pastry chef, who will have direct access to the semifinals.
Click here to take part in the challenge!
Events and organized tours
Find out about all the events and the activities happening in the area to make your stay unique and unforgettable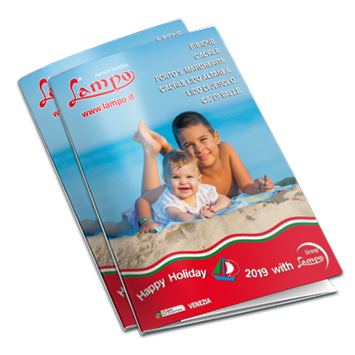 The Lampo catalog
Price lists and updated offers
Detailed descriptions of our facilities
Useful information on locations and activities available
Browse online or download the Pdf