Traditions and culture
Between history and art

Caorle is one of the finest beach resorts in Italy and it is very well known and popular with tourists from all over Europe.
Its artistic and cultural identity is firmly rooted and plain to see throughout the old town centre. It is wonderfully complemented by the Byzantine cathedral and its remarkable cylindrical bell tower.
The atmosphere is reminiscent of the narrow streets and squares of Venice and tourists are left enchanted by the magical sights, colours and views.
The Sanctuary of the Madonna dell'Angelo is one of the town's most famous landmarks. It is a little church that marks the boundary between the Levante and Ponente beaches.
The sanctuary was the first place of worship in Caorle. It was built by the people of the town and it is said that the statue of the Madonna and Child was found out in the sea by a group of fishermen in their boats.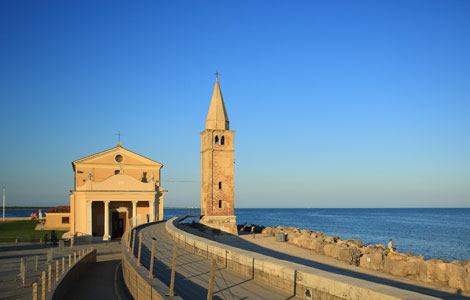 The fishing industry is and always will be the main contributor to Caorle's economy. This will become apparent if you take a trip down to the old port, where the fishermen moor their boats every day after they come back with their catches of fresh, delicious fish, which is a cornerstone of the town's cuisine.
In the port, it is still possible to see a number of traditional sailing boats known as "bragossi", which have multi-coloured sails and are decorated with the coats of arms of noble families. There are also some old-fashioned lagoon fishing boats called "caorline", which are around 10 metres long and are now used in regattas.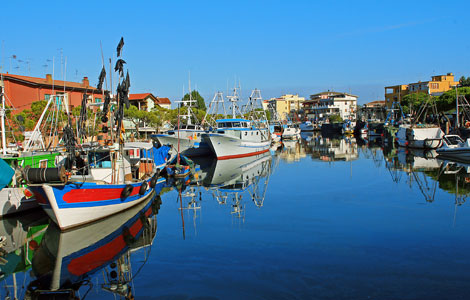 Rio Terrà is the main street in the old town centre. It was originally criss-crossed by a network of canals but they have now been filled in. It is one of the busiest outdoor gathering places in Veneto, not only in the summer but also at other times of year. It is the perfect spot for a pleasant stroll, an aperitif with friends or a meal in one of the many restaurants that are open all year round, where you can enjoy one of the numerous culinary specialities on offer.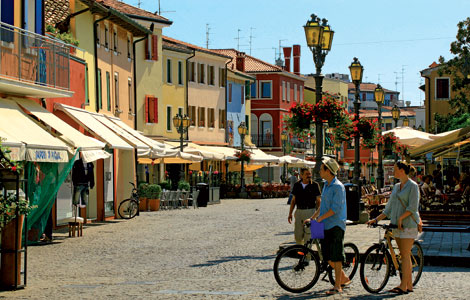 Find out the events and the activities in the surrounding area
Sport, events and tours for an unforgettable holiday