Security of our site
Safe payments
The management of payment of our site is guaranteed by Banca Sella, a credit institution leader in the payment management by credit cards over the Internet.
The operation scheme involves four actors:
The Client
Agency Lampo
Banca Sella
International official circuits Visa/Mastercard
When you visit our site and decide to confirm the payment of the account by credit cards, you have to fill in a form, with all the data we need to meet your requirement (name, address,etc.). The summary page will provide the amount to pay and a key linking you with the payment page on a protected server of Banca Sella.
On the payment page you will have to write the credit card number, the expiring date, the holder's name and an e.mail address. The insertion of sensitive data (name and number of credit card) will occur in a safe way (the Banca Sella server is a protected server with a 128 bit encryption) to allow you peace of mind during any further transactions.
Banca Sella collects the data concerning the transaction (credit card and amount) and insert them in the International official circuits. Through the same circuits is reached the Institute which has issued the credit card and once received a positive or negative result, the answeer will be communicated to Banca Sella.
The server of Banca Sella will link you back with our server, so that you come back to our site and you will be informed about the result of your reservation.
At the same moment the server of Banca Sella sends two e.mail messagges (one to Lampo Agency, the other to the client) where the transaction data are summed up. The whole process will take about ten seconds and guarantees the privacy of your personal details and the impossibility by other people to enter and come into possession of the data themselves.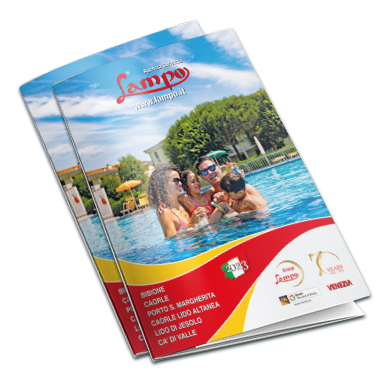 The Lampo catalog
Useful information for your reservation
Detailed descriptions of our facilities
Useful information on locations and activities available
Browse online or download the Pdf