Privacy
Privacy and Cookies
Dear User,
Agenzia Lampo srl, as Controller of the processing of your personal data, is providing the following information as established by the European Regulation (EU) 2016/679 (GDPR) regulating the protection of the personal data of  individuals – to explain how we process the date provided by you when you access, navigate and use the website, and which is collected electronically so that you can express your consent to processing freely and knowingly.
Please note that this information is not being provided for any other websites possibly consulted by the User through links leading to them from the one of the Controller. The existence of a link to another website does not imply the approval or acceptance of responsibility by the Controller regarding the content of the website the User is sent to; also related to the policy adopted for the processing of personal data and its use.
CONTROLLER OF PROCESSING AND PROCESSORS
The personal data Process Controller is Agenzia Lampo srl, with registered office in via A. Sommariva, 18, in Portogruaro (VE), Italy (hereinafter "Controller"), in the person of the Legal Representative, Nazzareno Mazzarotto.
HOW PERSONAL DATA IS COLLECTED AND TYPE OF PERSONAL DATA COLLECTED
The type of personal data collected by the Controller depends on how the website is used by the User. More specifically:
 Navigation data is acquired by the computer systems and software procedures regulating the operations of this website. This information is not collected to enable identification of the user, but is only used to extract anonymous statistics on use of the website and to control that its is operating correctly. This data category includes IP addresses or the domain names of computers used by Users to connect to the website, the time of the request, the method used to submit the request to the server, the numerical code indicating the server response status (successful, error, etc.) and other parameters related to the operating system and browser used by the user.
This data could be used by Authorities to ascertain responsibility if there are any computer offences against the website.
 Moreover, the Controller may acquire the User's personal data if the User:
intends to submit his/her curriculum vitae;
wishes to receive the newsletter;
takes part in a loyalty program, a survey, a prize operation or registers to be informed of commercial and marketing actions or events organised by Agenzia Lampo srl;
 The Controller may acquire the User's data through use of Cookies. All the information on the latter is provided on the Cookie Policy page which also provides indications on how to deactivate Cookies.
 The Controller acquires some User data after a registration procedure activated by the User to access a specific website section and use the service offered (for example, to send his/her curriculum vitae to the Controller). For confidentiality and security reasons, the User has to start a registration procedure by creating his/her own password which will then be indispensable, with the user-id, to access protected services. The User may change his/her password at any time following the instructions provided by the system In that case, the User is the only person responsible for maintaining the confidentiality and secrecy of his/her user-id and/or password.
The types of personal data the Controller can collect for the above purposes are the following:
 User information such as name and surname, home address, phone number, place and date of birth, e-mail address;
 credentials such as password, id or other used for authentication and access to some reserved website areas;
 data from cookies, web beacons and other similar technologies.
USER PERSONAL DATA PROCESSING PURPOSE
The Controller may process the personal data of the User, with his/her explicit consent, for the following purposes:
 to fulfil the contractual service requested;
 search and select personnel;
 marketing, in particular in order to:
keep the User informed of initiatives, events organised for specific new products and services by sending the newsletter or any other kind of communication;
invite the User to events, prize competitions, to take part in surveys;
send promo-advertising information materials and/or commercial offers;
carry out market and/or opinion/satisfaction surveys (also carried out by external companies assigned to do so by Agenzia Lampo srl;
 commercial profiling, that is: the Controller may process your personal data to analyse or foresee, using algorithms or other automated systems, your tastes and consumer choice habits, to offer you services and communicate events and sector information more suited to your real interests and be able to prepare personalised promotions and communications. The same commercial profiling processing may also be done by third party companies for that purpose if you issue your specific, optional consent to the Controller.
SUBJECTS THE USER'S PERSONAL DATA MAY BE COMMUNICATED TO. CIRCULATION OF DATA.
Your data may be communicated after inspections or audits (if requested) to all inspection bodies appointed to check and control the regularity of legal compliance. Your data may also be communicated to companies/professional firms providing assistance, accounting, administrative, fiscal, legal, tax and financial consultancy services. Your data will be communicated to other partners in order to provide you with the best assistance possible. The subjects mentioned, appointed as external Processors, process your data in compliance with provisions in (EU) Reg.  679/2016.
HOW DATA IS PROCESSED AND DATA STORAGE TIMES
Data is processed using electronic instruments and, in some cases, on paper, correctly, legally, transparently, applying logics strictly related to the purposes indicated above, and suited to safeguarding the confidentiality of data being protected and the rights of the data subject in compliance with the law in force. Technical and organisational security measures have been adopted to protect the data from being destroyed or lost, even accidentally, and against unauthorised access or disclosure.
The Controller will use the data for the purposes indicated in this policy, respecting legal limits, taking all care to avoid the data itself being used indefinitely.
TYPE OF CONSENT AND ANY CONSEQUENCES FROM REFUSAL
All the personal data provided by you is strictly functional to managing the website and the User's relationship with Agenzia Lampo srl. The registration procedure to access certain specific website areas is obligatory in order to exclude unauthorised access to the services offered. Providing personal data voluntarily to register and access some website areas is optional; but not doing so could make it impossible to forward the information or requests to the website.
EXTERNAL PROCESSOR
The Controller has appointed companies or entities providing services that involve the processing of personal data on behalf of the Controller as external Processors. The updated list of Processors is available c/o the Controller and may be requested by contacting the numbers or addresses provided.
RIGHTS OF THE DATA SUBJECT.
As you are the subject affected by the processing of your personal data, you may exercise certain rights listed below:
 ask Agenzia Lampo srl for access to your personal data and to information concerning it; rectify incorrect data or integrate it if incomplete; erase personal data concerning you (under the conditions indicated in art. 17, paragraph 1 of the GDPR and in compliance with exceptions set forth in paragraph 3 of that article); limit the processing of your personal data (in the hypotheses indicated in art. 18, par.1 of the GDPR);
 request and obtain from Agenzia Lampo srl – if processing is performed using automated means – your data in a structured format, readable from an automatic device; also in order to notify that data to another process Controller (so-called right to personal data portability);
 object to processing of your personal data at any time when special situations occur concerning you;
 revoke consent at any time, limited to when processing is based on your consent for one or more specific purposes and concerning common personal data(for example date and place of birth or place of residence) or particular data categories (for example data revealing your race, your political opinions, your religious beliefs, state of health or sexual life). Processing based on consent and carried out before that consent is revoked is still legal;
 present a complaint to the control authority (Personal data Protection Authority: www.garanteprivacy.it)
You may exercise the rights listed above by writing to the e-mail address: privacy.agenzialampo@lampo.it. 
Date Controller: Agenzia Lampo srl, in the person of the legal representative Nazzareno Mazzarotto.
Release_v1.0_november_2018
This policy will be updated. Agenzia Lampo srl kindly invites you to consult this page regularly.
COOKIES
WHAT ARE COOKIES?
Cookies are small pieces of information that are placed on your computer or mobile device when you visit most websites. They are designed to give you the best possible browsing experience when you visit the same website a number of times.
WHICH HAVE WE CHOSEN?
have chosen to utilize cookies to give users a comprehensive, complete browsing experience.
The website lampo.it uses the following cookies:
Cookies that are strictly necessary for the use of the website (technical cookies).
Persistent and session profiling cookies (Lampo cookies).
Third-party analytical cookies (by Google Analytics)
Third-party profiling cookies that are used for behavioural advertising (by Google Adwords)
Cookies that are strictly necessary for the use of the website (technical cookies)
We use anonymous browsing cookies, which are necessary in order for users to be able to browse lampo.it properly, use all of its functions and access bookings.
Persistent and session profiling cookies (Lampo cookies)
We use profiling cookies (which are owned by Lampo) to manage your preferences for your holidays and ensure that you are always presented with the content that best matches your expectations
Third-party analytical cookies (by Google Analytics)
We utilize analytical cookies to gain a better understanding of how people use our website. Lampo uses aggregate analysis instruments for browsing data (Google Analytics) to optimize and enhance the website and ensure that it is always interesting and relevant for users. The information is anonymous and only used for statistical purposes. The instruments use cookies which are stored on users' computers to allow the website manager to analyse how people use the site. The information about utilization of the website by users (including the IP addresses, which are anonymized by removing some numbers) is sent to Google's servers and saved there. The details are utilized to trace and examine website use and produce reports on website activities. Users who do not want Google Analytics cookies can prevent them from being stored on their computers with the special "Google Analytics Opt-out Browser Add-on" provided by Google at https://tools.google.com/dlpage/gaoptout. To install the add-on (which stops browsing information from being sent), simply follow the instructions on the screen, then close and reopen your browser.
Third-party profiling cookies that are used for behavioural advertising (by Google Adwords)
We utilize anonymous advertising cookies to show you our advertisements on other websites, using information about the products that you have viewed during previous visits. These cookies are usually added by trusted third parties such as Google, which runs remarketing schemes for display advertising. Lampo does not allow these companies to collect personal information about users. This means that they will remain anonymous and their personal data will not be used by other websites or marketing databases.
Third-party cookies
Hotjar – This service uses cookies to gather anonymous information about behavioural models during user visits. This allows website developers to provide solutions that improve the browsing experience, identify preferences, diagnose technical issues, and analyse the trends of a website.
"Feedback polls": it manages questionnaires and polls about website operation, with the aim of catering to the browsing needs of users.
"Surveys": it manages questionnaires for users to learn about the limits and obstacles that they note.
"Heatmaps": it manages interaction maps, to monitor the areas of interest of website users.
"Video recording": it manages video recordings of interface behaviour anonymously.
For more information, visit https://www.hotjar.com/legal/policies/privacy
Formisimo – This tool helps us to understand how our users interact with forms. Formisimo collects anonymous aggregated data and creates reports on website trends without identifying unique visitors. Formisimo uses a single cookie per session to establish how visitors browse within our forms. http://www.formisimo.com/privacy-policy
Users who utilize this website without disabling cookies are also automatically giving their consent for the processing of their data by third-party companies in the ways and for the purposes mentioned above.
How to change cookie settings and disable cookies
You can allow your username and password to be stored in cookies after you close a browsing session so that they will be proposed at your next visit, and you can disable them for all future use at any time by using the specific browser settings to block cookies, as follows:
Mozilla Firefox:
Select the "Tools" menu, then "Options"
Click on "Privacy"
Microsoft Internet Explorer:
Select "Tools", then "Internet Options"
Click on "Privacy"
Use the cursor to select your chosen level of privacy
Chrome:
Select "Tools", then "Settings"
Click on "Show advanced settings"
In the "Privacy" section, click on "Content settings"
Opera:
Select "File", then "Preferences"
Click on "Privacy"
To disable third-party cookies that use browsing behaviour to deliver targeted advertising, you can visit the websites www.networkadvertising.org and www.youronlinechoices.com to identify the members of the Network Advertising Initiative (NAI) that have set advertising cookies on your computer. To opt out from the behavioural advertising programme of an IAB or NAI member, tick the box for the company that you want to stop.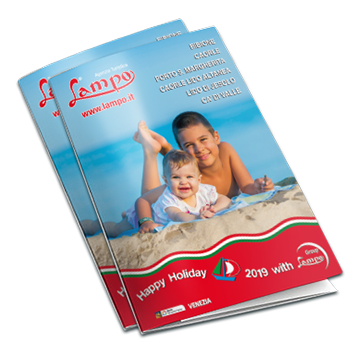 The Lampo catalog
Price lists and updated offers
Detailed descriptions of our facilities
Useful information on locations and activities available
Browse online or download the Pdf