Privacy Policy
Privacy & Cookies
Dear Customer,
pursuant to EU Regulation 679/2016, in compliance with art. 13 of the aforementioned European Regulation, we would like to inform you of the following:
PROCESSING PURPOSE
Your personal data, freely communicated and acquired by us for the activities performed by Agenzia Lampo srl, will be processed legally and correctly. On supplying our services, it will be possible to process your data to fulfil the service requested and satisfy the legitimate interest of the process Controller to send electronic communications related to goods and services similar to those already received.
PROCESSING METHOD
The data itself will be processed, pursuant to the security and confidentiality required, as follows: collection of data directly for certain purposes, explicit and legitimate and use for further processing operations in terms that are compatible with those purposes; processing performed with or without using electronic and automated tools; storage of data in a form that enables the data subject to be identified, for a period of time that does not exceed what is needed for the purposes for which data was collected and then processed.
LEGAL BASIS FOR PROCESSING
The legal basis for processing is in order to fulfil the service requested of our Company.
LEGITIMATE INTERESTS PURSUED BY THE PROCESS CONTROLLER
When processing your personal data, the legitimate interests resulting from the supply of the service requested by you, a contractual obligation between the Parties, are being pursued.
OBLIGATORY OR OPTIONAL NATURE OF PROVIDING DATA AND CONSEQUENCES OF REFUSING TO RESPOND
Providing your personal data is optional. But, however, it is needed to supply the service requested. Therefore, not providing your personal data could make it impossible for Agenzia Lampo srl to supply the service.
COMMUNICATION OF DATA TO THIRD PARTIES
Your data may be communicated after inspections or audits (if requested) to all inspection bodies appointed to check and control the regularity of legal compliance. Your data may also be communicated to companies and professional firms providing assistance, accounting, administrative, fiscal, legal, tax and financial consultancy services to Agenzia Lampo srl. Moreover, your data will be automatically communicated to other Partners in order to provide you with the best assistance possible. Those companies, professional firms, external collaborators and Partners are appointed as external Processors by the Controller. Through that appointment, they only perform the processing operations for Agenzia Lampo srl pursuant to regulations in  (EU) Regulation 679/2016.
Your personal data will not be circulated.
STORAGE TIMES
Your personal data will be stored based on times established by law.
INTENTION OF THE PERSONAL DATA PROCESS CONTROLLER TO TRANSFER DATA ABROAD
Please note that the servers are located in the many factory of the Company. The Controller will not transfer data abroad, to a third party country or to an international organisation.
DATA CONTROLLER
The data Controller is Agenzia Lampo srl with registered office in Portogruaro (VE), in via A. Sommariva n. 18. The legal representative is Nazzareno Mazzarotto.
As the data subject, you may, at any time, exercise your rights, established by art. 7 of (EU) Regulation 679/2016, of which you will find the full text below.
EXTERNAL PROCESSORS
The Controller has appointed companies or entities providing services that involve the processing of personal data on behalf of the Controller as external Processors. The updated list of Processors is available c/o the Controller and may be requested by contacting the numbers or addresses provided at the bottom of this document.
RIGHTS OF THE DATA SUBJECT
As you are the subject affected by the processing of your personal data, you may exercise certain rights listed below:
   ask Agenzia Lampo srl for access to your personal data and to information concerning it; rectify incorrect data or integrate it if incomplete; erase personal data concerning you (under the conditions indicated in art. 17, paragraph 1 of the GDPR and in compliance with exceptions set forth in paragraph 3 of that article); limit the processing of your personal data (in the hypotheses indicated in art. 18, par.1 of the GDPR);
   request and obtain from Agenzia Lampo srl – if processing is performed using automated means – your data in a structured format, readable from an automatic device; also in order to notify that data to another process Controller (so-called right to personal data portability);
    object to processing of your personal data at any time when special situations occur concerning you;
   revoke consent at any time, limited to when processing is based on your consent for one or more specific purposes and concerning common personal data (for example date and place of birth or place of residence) or particular data categories (for example data revealing your race, your political opinions, your religious beliefs, state of health or sexual life). Processing based on consent and carried out before that consent is revoked is still legal;
   present a complaint to the control authority (Personal data Protection Authority: www.garanteprivacy.it)
You may exercise the rights listed above by writing to the e-mail address: privacy.agenzialampo@lampo.it
Date Controller: Agenzia Lampo srl, in the person of the legal representative Nazzareno Mazzarotto.
COOKIES
WHAT ARE COOKIES?
Cookies are small pieces of information that are placed on your computer or mobile device when you visit most websites. They are designed to give you the best possible browsing experience when you visit the same website a number of times.
WHICH HAVE WE CHOSEN?
have chosen to utilize cookies to give users a comprehensive, complete browsing experience.
The website lampo.it uses the following cookies:
Cookies that are strictly necessary for the use of the website (technical cookies).
Persistent and session profiling cookies (Lampo cookies).
Third-party analytical cookies (by Google Analytics)
Third-party profiling cookies that are used for behavioural advertising (by Google Adwords)
Cookies that are strictly necessary for the use of the website (technical cookies)
We use anonymous browsing cookies, which are necessary in order for users to be able to browse lampo.it properly, use all of its functions and access bookings.
Persistent and session profiling cookies (Lampo cookies)
We use profiling cookies (which are owned by Lampo) to manage your preferences for your holidays and ensure that you are always presented with the content that best matches your expectations
Third-party analytical cookies (by Google Analytics)
We utilize analytical cookies to gain a better understanding of how people use our website. Lampo uses aggregate analysis instruments for browsing data (Google Analytics) to optimize and enhance the website and ensure that it is always interesting and relevant for users. The information is anonymous and only used for statistical purposes. The instruments use cookies which are stored on users' computers to allow the website manager to analyse how people use the site. The information about utilization of the website by users (including the IP addresses, which are anonymized by removing some numbers) is sent to Google's servers and saved there. The details are utilized to trace and examine website use and produce reports on website activities. Users who do not want Google Analytics cookies can prevent them from being stored on their computers with the special "Google Analytics Opt-out Browser Add-on" provided by Google at https://tools.google.com/dlpage/gaoptout. To install the add-on (which stops browsing information from being sent), simply follow the instructions on the screen, then close and reopen your browser.
Third-party profiling cookies that are used for behavioural advertising (by Google Adwords)
We utilize anonymous advertising cookies to show you our advertisements on other websites, using information about the products that you have viewed during previous visits. These cookies are usually added by trusted third parties such as Google, which runs remarketing schemes for display advertising. Lampo does not allow these companies to collect personal information about users. This means that they will remain anonymous and their personal data will not be used by other websites or marketing databases.
Third-party cookies
Hotjar – This service uses cookies to gather anonymous information about behavioural models during user visits. This allows website developers to provide solutions that improve the browsing experience, identify preferences, diagnose technical issues, and analyse the trends of a website.
"Feedback polls": it manages questionnaires and polls about website operation, with the aim of catering to the browsing needs of users.
"Surveys": it manages questionnaires for users to learn about the limits and obstacles that they note.
"Heatmaps": it manages interaction maps, to monitor the areas of interest of website users.
"Video recording": it manages video recordings of interface behaviour anonymously.
For more information, visit https://www.hotjar.com/legal/policies/privacy
Formisimo – This tool helps us to understand how our users interact with forms. Formisimo collects anonymous aggregated data and creates reports on website trends without identifying unique visitors. Formisimo uses a single cookie per session to establish how visitors browse within our forms. http://www.formisimo.com/privacy-policy
Users who utilize this website without disabling cookies are also automatically giving their consent for the processing of their data by third-party companies in the ways and for the purposes mentioned above.
How to change cookie settings and disable cookies
You can allow your username and password to be stored in cookies after you close a browsing session so that they will be proposed at your next visit, and you can disable them for all future use at any time by using the specific browser settings to block cookies, as follows:
Mozilla Firefox:
Select the "Tools" menu, then "Options"
Click on "Privacy"
Microsoft Internet Explorer:
Select "Tools", then "Internet Options"
Click on "Privacy"
Use the cursor to select your chosen level of privacy
Chrome:
Select "Tools", then "Settings"
Click on "Show advanced settings"
In the "Privacy" section, click on "Content settings"
Opera:
Select "File", then "Preferences"
Click on "Privacy"
To disable third-party cookies that use browsing behaviour to deliver targeted advertising, you can visit the websites www.networkadvertising.org and www.youronlinechoices.com to identify the members of the Network Advertising Initiative (NAI) that have set advertising cookies on your computer. To opt out from the behavioural advertising programme of an IAB or NAI member, tick the box for the company that you want to stop.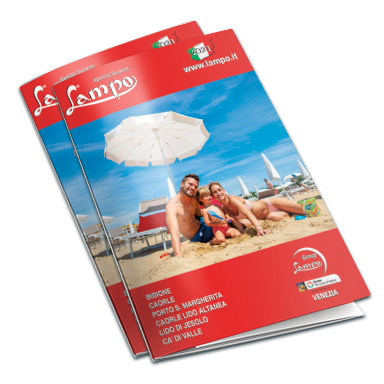 The Lampo catalog
Price lists and updated offers
Detailed descriptions of our facilities
Useful information on locations and activities available
Browse online or download the Pdf