City Market and Art – Discover Portogruaro
Guided tour of the charming villages in the hinterland
Lampo Group and Veneto Orientale Tours offer their guests the possibility of guided tours in the beautiful lagoon hinterland to discover the picturesque villages and their attractions.
Portogruaro is a picturesque center of medieval origin born on the shore of Lemene river and surrounded by ancient walls. With the guide the traveler will be able to admire the artistic beauties and visit the typical city market on Thursdays, to taste wines and typical foods of the traditional Venetian cuisine, to go shopping among the many shops that overlook the streets of the center .
A morning really different from the usual, not to laze under the umbrella.
Until 30/06 and from 08/09 look for our SPECIAL OFFERS WITH FREE EXCURSION on our website.
Find out the events and the activities in the surrounding area
Sport, events and tours for an unforgettable holiday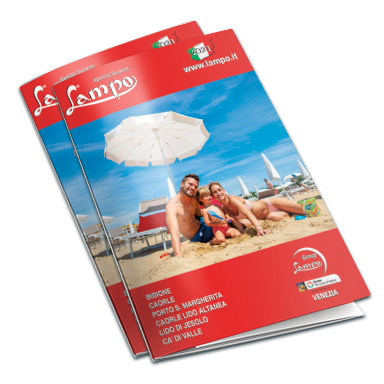 The Lampo catalog
Price lists and updated offers
Detailed descriptions of our facilities
Useful information on locations and activities available
Browse online or download the Pdf