Experience the lighthouse
A sea of discoveries to live during your holiday in Bibione!
In Bibione the Lighthouse is the ideal place for many new discoveries all free!
Also this year it will be possible to discover the history of the lighthouse through the exhibition LuMe – Stories of Light and Memories and visit the multimedia installation of the Primis project on the Friulian-speaking minority in Eastern Veneto.
Educational workshops, night walks, opportunities to get to know and experiment with nature in the enchanting atmosphere of the Bibione lighthouse.
Stay connected to discover the program.
OPENING TIME:
April:
SATURDAY, SUNDAY and HOLIDAYS
From May 1st to October 1st:
OPEN EVERY DAY
External area opening hours: from 07:00 to 19:00
Internal area opening hours: from 08:00 to 12:30 and from 15:30 to 18:30
The Lighthouse will be closed in case of adverse weather conditions.
From October 1st to November 1st:
SATURDAY, SUNDAY AND HOLIDAYS
External area opening hours: from 09:00 to 17:00
Internal area opening hours: from 10:00 to 15:00
Christmas holidays:
8 / 9 / 10 – 16 / 17 – 23 / 24 / 26 – 30 / 31 DECEMBER
1 / 6 / 7 JANUARY 2024
External area opening hours: from 9:30 to 15:30
Internal area opening hours: from 10:00 to 15:00
Find out the events and the activities in the surrounding area
Sport, events and tours for an unforgettable holiday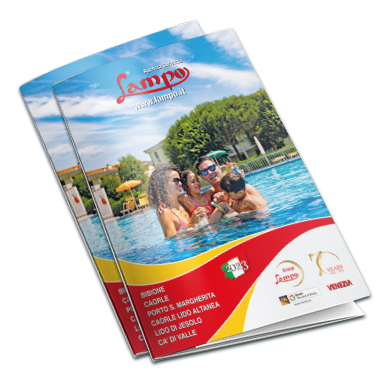 The Lampo catalog
Useful information for your reservation
Detailed descriptions of our facilities
Useful information on locations and activities available
Browse online or download the Pdf