X River: join Bibione and Lignano
The boat that brings you from a location to the other
X River is the new boat for ca. 25 people and their bicycles, it will travel every day along the Tagliamento river from May to September.
The service ( € 1,00 per person and it will be free for children under 1 mt) will take place continuously from 9.00 to 19.00, except suspensions due to bad weather.
A pier 500 meters from the lighthouse of Bibione will be the starting point of the ferry to Lignano Sabbiadoro, which will land on the dock of the Marina Uno dock at Riviera becoming an access point to explore the locality of Friuli and its hinterland.
The nine kilometers of the cycle path along the beach of Bibione will be added to the eight in Lignano Sabbiadoro, including the new waterfront under renovation.
Cycling will thus experience an experiential journey in a varied and lush nature, a multifaceted ecosystem to be explored slowly.
Find out the events and the activities in the surrounding area
Sport, events and tours for an unforgettable holiday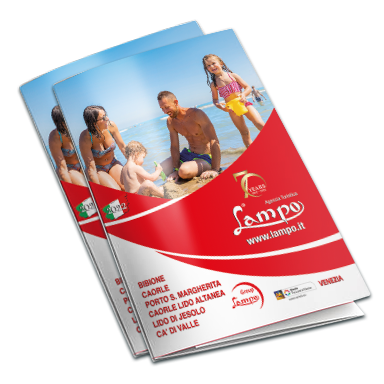 The Lampo catalog
Price lists and updated offers
Detailed descriptions of our facilities
Useful information on locations and activities available
Browse online or download the Pdf