The beach services
Services to meet every need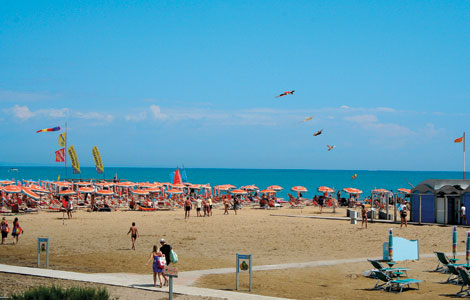 Bibione's broad beach stretches out for 11 kilometres along the coast and it has a range of services to cater to all of its visitors' needs.
Sun loungers and umbrellas are available on the beach and in some areas there are stylish, comfortable gazebos. They can all be booked on the handy website http://www.bibionespiaggiaonline.com or through our agency.
The accomplished, courteous staff from the efficient Customer Service team deal with tourist requests and enquiries throughout the day. There is also a useful SMS Beach Help service: tourists can simply send a text message to +39 366 92 36 115 stating the NAME OF THEIR SECTOR, THE LETTER OF THEIR ZONE and THEIR PLACE NUMBER (for example, Auriga B 300) and a member of the Customer Service team will soon join them by their umbrella to provide the assistance required. It is an extra helping hand to ensure that guests can fully relax during their time on the beach.
For all medical needs, there are a number of first aid stations on the beach to assist tourists with cuts, burns, stings, bites and other small injuries. For the safety of beachgoers, lifeguards keep watch on the sea and the shore from a number of towers, which are spread along the beach and provided with rescue equipment.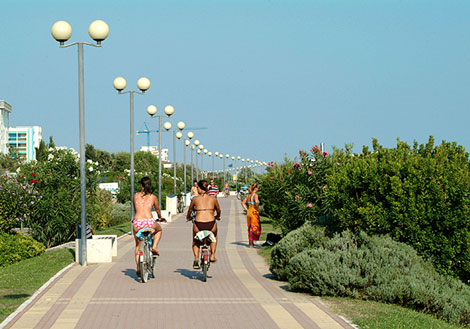 In the easternmost part of the sand is a section called Pluto's Beach for tourists who do not want to be without their four-legged friends. Dogs are welcome there and their owners will find a comprehensive range of facilities, such as lead holders, bowls, showers and doggie doo bags. The beach is also constantly cleaned.
For guests staying in holiday villages that are further away from the sea, there is a free Beach Shuttle Bus service from 8.30 am to 7.00 pm. Tourists can collect vouchers for the buses from the agency where they booked their holiday.

Events and organized tours
Find out about all the events and the activities happening in the area to make your stay unique and unforgettable