The flavours of Caorle
Adriatic cuisine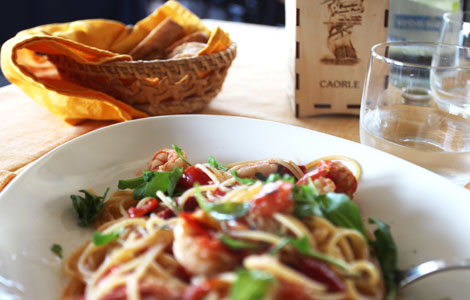 You will have no problems finding somewhere to eat in Caorle because on every corner there are traditional trattorias and restaurants where you can enjoy choice Veneto cuisine. Some restaurants are open all year round, but it is in the summer that the finest array of culinary delights is on offer to the many tourists who choose to spend their holidays in Caorle.
The most traditional establishments are located among the multi-coloured houses on the narrow streets and squares of Caorle's old town centre. They serve all of the best fish specialities for which Caorle is renowned, such as "moscardin" (a type of octopus), "broeto" (a selection of seafood cooked in tomato and vinegar sauce), pasta with cuttlefish ink and "sarde in saor" (fried sardines with pine kernels, raisons and caramelized onions cooked in vinegar), but there are also traditional Italian first courses and meat-based second courses.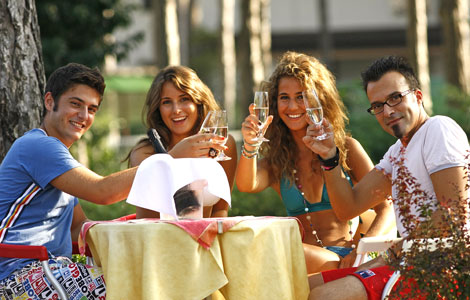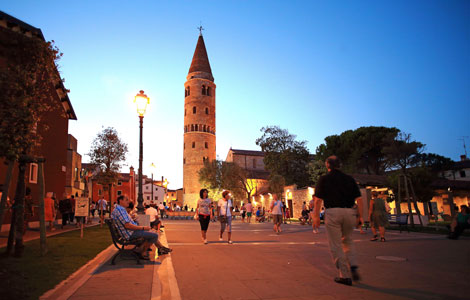 All of the quintessential local dishes offered to visitors to the enchanting town of Caorle are made with locally sourced, wholesome products and fish caught in the sea that washes against its shores.
The flavours of every recipe are marvellously complemented by the aromatic notes of the DOC wines from the Veneto countryside, which can be bought from the local estates just a few kilometres from Caorle.
Find out the events and the activities in the surrounding area
Sport, events and tours for an unforgettable holiday