Cookies Policy
COOKIES
WHAT ARE COOKIES?
Cookies are small pieces of information that are placed on your computer or mobile device when you visit most websites. They are designed to give you the best possible browsing experience when you visit the same website a number of times.
WHICH HAVE WE CHOSEN?
have chosen to utilize cookies to give users a comprehensive, complete browsing experience.
The website lampo.it uses the following cookies:
How to change cookie settings and disable cookies
You can allow your username and password to be stored in cookies after you close a browsing session so that they will be proposed at your next visit, and you can disable them for all future use at any time by using the specific browser settings to block cookies, as follows:
Mozilla Firefox:
Select the "Tools" menu, then "Options"
Click on "Privacy"
Microsoft Internet Explorer:
Select "Tools", then "Internet Options"
Click on "Privacy"
Use the cursor to select your chosen level of privacy
Chrome:
Select "Tools", then "Settings"
Click on "Show advanced settings"
In the "Privacy" section, click on "Content settings"
Opera:
Select "File", then "Preferences"
Click on "Privacy"
To disable third-party cookies that use browsing behaviour to deliver targeted advertising, you can visit the websites www.networkadvertising.org and www.youronlinechoices.com to identify the members of the Network Advertising Initiative (NAI) that have set advertising cookies on your computer. To opt out from the behavioural advertising programme of an IAB or NAI member, tick the box for the company that you want to stop.
Find out the events and the activities in the surrounding area
Sport, events and tours for an unforgettable holiday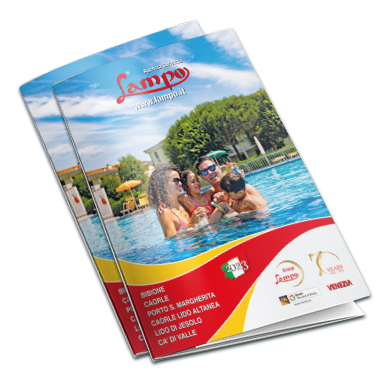 The Lampo catalog
Useful information for your reservation
Detailed descriptions of our facilities
Useful information on locations and activities available
Browse online or download the Pdf