Last year's edition saw a huge increase in entries compared to 2019 and this summer the Europa Triathlon Cup will be back in Caorle from Friday 13 to Sunday 15 May.
It takes a huge amount of strength, stamina and mental and physical fitness to take on the three stages in the multidisciplinary sport. Athletes go straight from swimming to cycling and then immediately start running. Nonetheless, there's no shortage of people who are desperate to brave the challenges that the race presents!
– The classic triathlon at the Olympics involves 1500 m of swimming, 40 km of cycling and 10 km of running.
– In Caorle, the Elite race involves 750 metres of swimming, 19.2 km of cycling and 5 km of running, in the sea off the coast of Porto Santa Margherita and then on the land on the roads between Porto Santa Margherita and Lido Altanea.
– The Junior race involves 300 m of swimming, 9.3 km of cycling and 1.9 km of running.
– A relay race has been introduced in 2022, with mixed male and female teams that can feature athletes from different countries. It is a great opportunity for coaches to identify the strengths and weaknesses of the triathletes, who will do 300 m of swimming, 6.3 km of cycling and 1.5 km of running.
The event has been organized by Silca Ultralite Vittorio Veneto. There are now less restrictive COVID rules in place, so big crowds are expected to flock to watch the races, which will make it all even more spectacular and engaging.
Please note that on 13, 14 and 15 May the roads used for the cycling and running stages may be closed for a number of hours.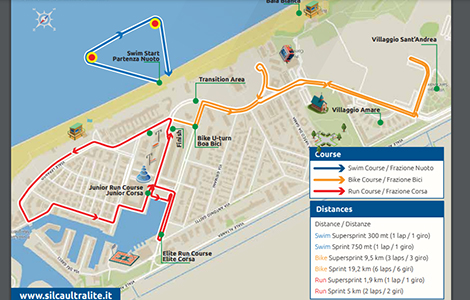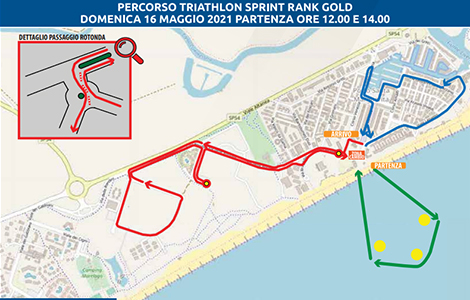 How to get to Caorle:
It's easy to get to Caorle from other countries by flying to the following nearby airports:
– Marco Polo Airport (VCE) – Venice – 52 km
– Antonio Canova Airport (TSF) – Treviso – 61 km
– Friuli Venezia Giulia Airport (TRS) – Trieste – 90 km
– The ATVO bus service (https://www.atvo.it/it-servizio-aeroporti.html) can take you from the airports to Caorle and back again. Alternatively, get in touch with Silca Ultralite and ask about their transfer service.
Signing up and rules:
Athletes must sign up by 10 May 2022 by sending an email to triathlon@trevisomarathon.com or entering online at https://keepsporting.com and attaching a copy of the receipt from their entry fee payment. Call +39 0438 1918104 for more details.
Where to stay
Are you interested in taking part in the race or have you already signed up but still need to find somewhere to stay for a few days?
– At www.lampo.it you can find lots of interesting deals on apartments in Caorle, Porto Santa Margherita and Lido Altanea.
– If you'd prefer to stay on a campsite, visit www.marelago.it and book a break in natural surroundings near the race location in Lido Altanea.
– If you're looking for the comfort of a hotel, we recommend the Hotel Maregolf in Lido Altanea (www.maregolf.it), which is a stone's throw from both the sea and the golf course.