Bibione is an ideal summer destination in the Northern Adriatic if you're looking for sea, sand and sunshine, not to mention sport, good times in the great outdoors and all sorts of unique experiences with your loved ones. On top of all of this, you can easily get around in your car and find safe parking everywhere you go. But where are the best car parks in Bibione?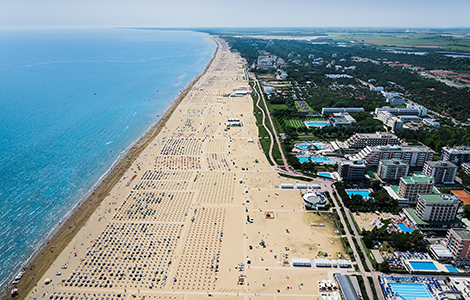 Paid parking in Bibione
The paid parking spaces in Bibione are marked with blue lines on the ground. They are subject to payment from 23 April to 30 September, every day from 9:00 am until 11:00 pm. If you're heading to Bibione town centre or the Bibione Spiaggia area, the most convenient location for disc parking is in Piazzale Zenith. The best spots if you're going to Bibione Lido del Sole are in Piazzale Adriatico and the adjacent streets, which are just a short walk not only from the beach but also from the main shopping strips, the restaurants and the fairground.
Here are the prices for paid parking in Bibione:
On Via Lira, Via Delfino and Piazzale Zenith:
€1.50 an hour – Minimum payment: €1.00
Full day: €12.00
€1.30 an hour – Minimum payment: €0.50
Full day: €10.00
How do you pay for parking?
You can pay for on-street parking at parking meters throughout the town by debit card, credit card or cash.
Alternatively, download the Phonzie app on your phone. Register and top up the credit in your wallet, then use it to pay only for the minutes that you actually use. You can also extend the parking time from your mobile device.
Free parking in Bibione
You can find free parking spaces on some roads in Bibione that are further away from the beach and the town centre. In addition, free parking is possible in two areas near the seafront if you book a spot on the beach online, with an umbrella and sun loungers in the establishments run by Bibione Spiaggia SRL.
If you book a spot on the beach online, you can leave your car for free every day in any empty spaces that you find in Zone C, which includes the following roads: Via Rigel, Via Puccini, Puccini car park, Via Procione, Via delle Colonie car park, Via Lira, Via Perseo, Via Alemagna, Via Mascagni, Via Donizetti, Via Vivaldi and Piazzale Adriatico.
If you book an umbrella online, you can also park for free in the spaces in Zone B on the following streets: Corso Europa, Bibione Thermae front car park, Zenith seafront, Via Delfino car park, Via Maia, Via Pleione, Via Castore, Via Polluce, Via Cassiopea, Via Andromeda, Via Auriga, Via Alcione, Via Taigete, Via Elettra, Via Orsa Minore, Via Atlante, Via Croce Del Sud, Via Pegaso, Via dello Zodiaco, Via Dei Pesci, Via Eolo, Via Dell'Acquario, Via Del Leone, Via Libeccio, Via Firmamento, Via Ercole, Via Astrale, Via Ariete, Via dei Gemelli, Via Del Sagittario, Via Della Bilancia, Via Delle Meteore, Via Satelliti, Piazza Orione and Via Toro.
In addition, it is possible to park for free in the large car parks near the establishments run by Bibione Mare in Bibione Pineda.
Finally, near the town centre is the large car park in Piazza Mercato. You can use it at any time except for Tuesdays in the summer months, when there's a weekly market.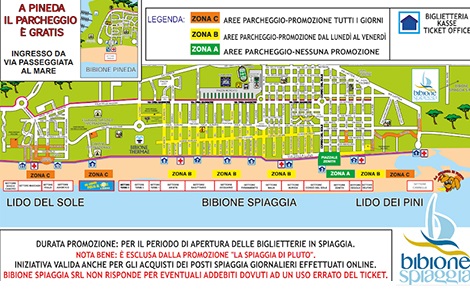 Parking Season Tickets in Bibione
From 1 May to 30 September, parking for season ticket holders is provided in spaces that are marked with blue lines alongside yellow lines. The spaces are for season ticket holders only and cannot be used by people who pay and display tickets bought by the hour or day.
Season tickets can be purchased from the Local Police at their public service counter. Payment can be made by debit card or credit card (there are no transaction fees) but not by cash.
The prices are as follows:
Per month for residents: €30.00
Full season for residents: €120.00
Per month for non-resident employees working locally: €40.00 (not valid on Sundays and public holidays)
Full season for non-resident employees working locally: €150.00 (not valid on Sundays and public holidays)
Multiple beach ticket: €8.00 a day (for at least 5 days)
Please note: Only people who live on roads and in areas where the paid parking areas are found qualify as "residents".
If you would like further information or you would like to buy a season ticket without queuing up at the public service counter, send an email to zoneblu@comunesanmichele.it.
Motorhome parking in Bibione
Holidaymakers can park motorhomes in the public car park at 153 Via Delfino, which is not far from the beach and the cycle path. Payment is required.
If you're looking for free parking for motorhomes, you can park up for free in the large Piazza Mercato car park near the Bibione fairground, but only in the daytime between 7:00 am and 10:00 pm (except on Tuesdays, when the market is on).
We hope that you'll find all of this useful when you're looking for paid parking in Bibione or free parking in Bibione. Get in touch with us at bibione.spiaggia@lampo.it if you'd like more information or you want to book a holiday.
Free parking in Bibione for all Lampo customers
Everyone who books a holiday with Agenzia Lampo has a guaranteed parking space.
In our facilities in both Bibione Spiaggia and Bibione Lido del Sole, one parking space is provided for each apartment booked. Some facilities provide spaces indoors or in garages, whereas others are outside. For further information, go to www.lampo.it or get in touch with our branches at bibione.lido@lampo.it