With its golden sand, vibrant shopping streets and numerous exhibitions, cultural attractions, sports initiatives and leisure facilities, Jesolo has always been a popular destination for tourists from all over Europe. It's also home to a hidden masterpiece that definitely deserves to be discovered: the Wall of Dreams. This breathtaking work of art is bursting with colours, symbols and items that never fail to capture onlookers' imaginations. Keep reading to find out how this dream first came true, how it's evolved over the years and how you can enjoy the unique experience of visiting it.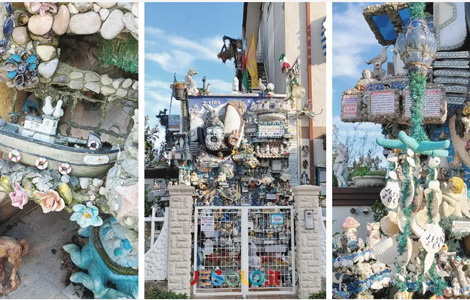 The origins of a dream
More than just a painting, the Wall of Dreams is a display of creativity and passion that transcends the very concept of art. It all began in 1997, when an art enthusiast from Jesolo called Corrado Bricchi wanted to cover a damp patch on a wall.
Like everyone would, first of all he tried painting it white. However, the damp patch appeared again, so he decided to paint over it with a picture of a boat on a blue sea. Soon, passers-by were stopping to admire and take photos of it.
That gave Mr Bricchi the idea of adorning the surface with objects of all kinds, which he has done to such an extent that the original wall can no longer be seen. Over the years, he's transformed it into a sort of 3D mural that tells stories and expresses feelings and desires.
Bursting with colours and symbols
The Wall of Dreams can be found at 21 Via Ada Negri, which is at the top of the street and near Piazza Drago. As soon as you set eyes on it, you'll be struck by the wealth of vibrant colours and evocative shapes. There are numerous references to the sea, fish, seahorses, drops of coloured glass and shells. There are also two fountains that call to mind water as an element and a host of statues and other items that Mr Bricchi has bought over the years and added to the display following countless visits to Venice and other big Italian cities.
After a lifetime working at Jesolo Hospital, he's now retired. As well as the wall, he also paints on cotton fabrics with tempera colours, in what he calls "Cotton Art".
All visitors are welcome to revel in the sight of the wall and let their imaginations carry them away into a beautiful fantasy world that all stems from the artist's passion and love for Jesolo.
Where to stay in Jesolo
If you're fond of craft fairs and other places where you can see quirky, original creations, we definitely recommend a trip to Corrado Bricchi's "Wall of Dreams" in Jesolo, where you can take a few nice photos to remember your visit.
If you haven't planned your holiday in Jesolo yet, you can find a vast array of holiday homes and apartments in Jesolo on our website.
In Agenzia Lampo's selection, you're bound to find the ideal solution for you and for your family or friends: a great location for getting to the beach, comfort and amazing prices, so you can make the most of all the marvels Jesolo has to offer, including the "Wall of Dreams".
Book with Agenzia Lampo and get ready to discover art and all sorts of other incredible sights during an unforgettable stay!
Photo Credits @jesolo.it