The marvellous Brussa Beach is a location steeped in unblemished natural beauty in the Municipality of Caorle. It's part of the Vallevecchia conservation area, a small stretch of the Northern Adriatic coast that remains untouched by urbanization, having formed after marshland was drained and reclaimed around 60 years ago. This hidden gem is known for its wild, free natural environment, with golden sands, crystal-clear water, pristine pine woods and peerless peace and quiet that can be enjoyed by visitors and also by the animals that live there.
Keep reading to find out everything there is to know about Brussa Beach, from the different ways to get there to activities for the whole family.
Get ready to discover a heavenly spot where you can relax and embark on adventures!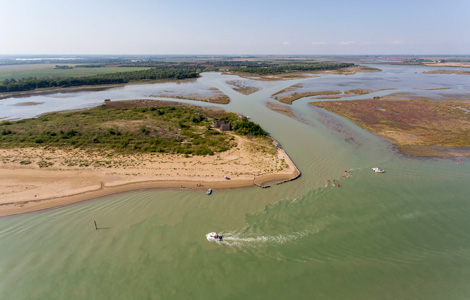 Brussa Beach: the complete guide
When you want to get away from the crowds and chaos in towns and cities, Brussa Beach is an idyllic spot where you can surround yourself with natural beauty. Nestled between the famous, prominent beach resorts of Caorle and Bibione, it's open to the public and totally pristine. Nature takes centre stage and there are no establishments hiring umbrellas and sun beds. Some very simple, basic toilets and showers are provided, but there are no changing rooms, beach huts, kiosks or refreshment areas. In the summer months, you can buy sandwiches and drinks from a food truck and ice cream from a cart on the beach.
The backdrop to the vast expanse of fine, soft sand is formed by luxuriant coastal vegetation, sand dunes, shrubs and pine woods.
It's a marvellous place to spend peaceful days sunbathing, going for long walks along the coast and swimming in the clear water. Families will find the beach environment is untamed but welcoming and safe for children, because the sand slopes gently down into the sea.
How to get to Brussa Beach
Getting to Brussa Beach is nice and easy.
– If you're travelling by car, set "Brussa" as your destination in your sat nav, exit the motorway at Portogruaro and go through Concordia, Sindacale and Lugugnana. It'll take you around half an hour to get to the beach. There's a large, handy car park that costs €5 for a whole day. Motorhomes can also be parked there, but there are no facilities.
You need to walk through the pine woods to get to the beach, which is approximately 200 metres from the car park. A wooden walkway on the last stretch will take you down onto the sand.
If you exit the motorway at Latisana, head towards Lugugnana and then Brussa. It should take you 15 to 20 minutes to get to the beach.
– If you're travelling by train, get off at Portogruaro – Caorle station. From there, you can take an ATVO bus directly to Brussa.
– If you like cycling and you want to go for a nice bike ride, you can get to Brussa from Caorle, Bibione or Lignano. They're all connected to the area thanks to a handy "boat link" service that'll take you and your bike over the rivers and stretches of lagoon that separate the resorts from each other. You can find out how to book a trip with the boat link service here.
What to do in Brussa, Caorle
As well as enjoying the beach and the sea, if you're a nature lover don't miss the chance to explore the Vallevecchia conservation area in Brussa. Containing a variety of habitats ranging from sand dunes to lagoons, it's home to a wealth of fauna and flora.
It's the ideal place for walks and bike rides, because from the beach you can take a trip to see the stunning "Casoni": traditional old fishermen's homes that look out over the marvellous Caorle lagoon towards Bibione and line the dirt track that runs alongside the Baseleghe canal. Although you're by the sea, you might even be able to see the Alps in the distance on clear, sunny days when there isn't a cloud in the sky. In the westernmost part of the wetlands are brackish fishing grounds, lagoons and reed thickets that provide breathtaking scenery for gorgeous photos, especially at sunrise and sunset, when the sky turns red, orange and pink.
Along the way, you'll find a number of viewing platforms for birdwatching. A wide range of bird species can be spotted, including swans, mallards, herons, cormorants, coots and little egrets, not to mention foxes, hedgehogs, badgers, squirrels, roe deer and hares.
In the water in the lagoon and on the coast, you stand a good chance of spotting crabs, grey mullet, sea bass and other fish.
There is a Visitor Centre with a Maritime Museum at the entrance to the island of Vallevecchia, where you can rent bicycles, use the e-bike charging stations and take the handy Boat Link service to Bibione or Caorle. A series of panels in the info point illustrate the magnificent, distinctive story of the Venice area and reveal how people and nature came together to create long-lasting harmony.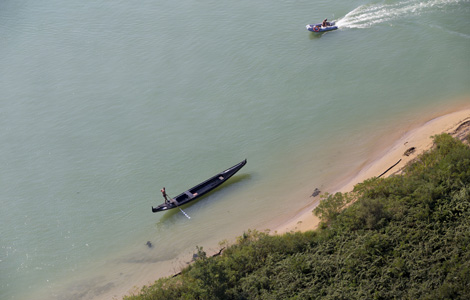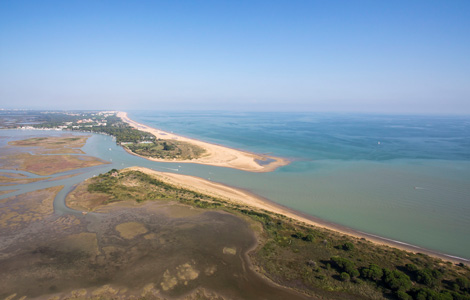 Where to eat in Brussa
After spending a day unwinding and enjoying adventures, you're bound to be feeling hungry. If you haven't brought a packed lunch with you, there are various options in Brussa for tourists who've worked up an appetite. You'll find a number of restaurants on the road leading into Brussa that serve fresh seafood, as well as local trattorias offering meat and fish-based regional specialities. Make sure you savour the authentic flavours of the local cuisine during your stay. Here are a few recommendations:
– The closest place to Brussa Beach is the picturesque MAZARACK RESTAURANT (51 Strada Brussa), which mainly serves seafood dishes made using simple, traditional Veneto recipes. It has its own jetties where boats can be moored. People often stop there to enjoy drinks and a light dinner outside, as they listen to some nice music and watch the sun go down over the lagoon.
– AI GABBIANI RESTAURANT AND PIZZERIA (142 Strada Provinciale Portogruaro Brussa) is a family-run establishment with a friendly, welcoming atmosphere that is known for its shellfish specialities.
In the summer, you can eat outside in the portico or on the large terrace with views of the meadows at the nearby riding school and the garden, which contains playground equipment for children.
– The B2O BREWERY AND RESTAURANT (216 Strada Provinciale Portogruaro Brussa) is the ideal spot for lovers of superb craft beers, with something to suit all tastes. The staff lovingly, masterfully prepare numerous products from their farm for guests. Using nothing but the finest ingredients plays a key part in the approach here, so the menu varies depending on product availability.
Discover Caorle with Agenzia Lampo
Brussa Beach is more than just a seaside destination. It's a place where nature and history are fused and visitors can bask in the ultimate blend of relaxation, adventure and discovery.
From the instant you set foot on the golden sand until the moment you savour local dishes in the restaurants, you'll be surrounded by unblemished beauty. If you want to get away from it all, Brussa Beach is the perfect place to recharge your batteries and make some lasting memories.
Once you've explored the breathtaking Brussa Beach and its natural wonders, there's no better way to end your adventure than booking an unforgettable stay in Caorle with the help of Agenzia Lampo. Check out the amazing local sights and take home incomparable memories. Book now!