The inimitable ice cream made in Italy is known as "gelato". More than just a delicious, refreshing dessert for the summer months, it's an exceptional artisanal product that is exported all over the world and can be enjoyed all year round.
The many different kinds of ice cream are filled not only with wholesome, natural flavour but also traditional Italian expertise, meticulously sourced and selected ingredients and an outstanding creative capacity to combine contents and produce new taste sensations.
Ice cream is sold all over the world and it's easy to pick up a tub in the supermarket, but if you want to try truly delicious artisanal gelato then the only real option is to come to Italy, where it's not only lovingly prepared but also served with a smile! If you've booked a summer holiday in Caorle, as well as unwinding, having fun and getting a stunning suntan, you can become a real ice cream connoisseur.
Check out our selection of the best ice cream parlours in Caorle and get ready for some peerless pleasures of the palate!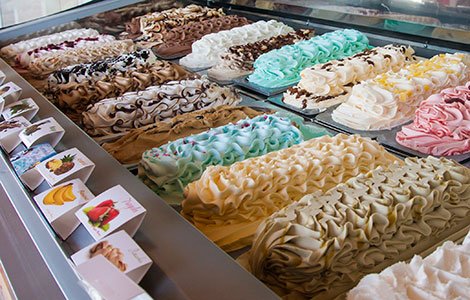 SoleLuna ice cream parlour – Delicious ice cream by Ponente beach
If you've just arrived in Caorle and you're near the Agenzia Lampo offices, we'd definitely recommend this small but outstanding gelato parlour near Ponente beach. The quality of the ingredients is superb and there are some wonderfully original choices on the menu. For example, make sure you try salted pistachio, which is their flagship flavour. There's a welcoming atmosphere and the staff are very friendly. What's more, it's ideal for people with coeliac disease because all of the flavours are gluten-free.
You can find it at 2 Via Silvio Pellico, 30021 Caorle (VE) and the telephone number is +39 338 8247314. It's open every day in the summer.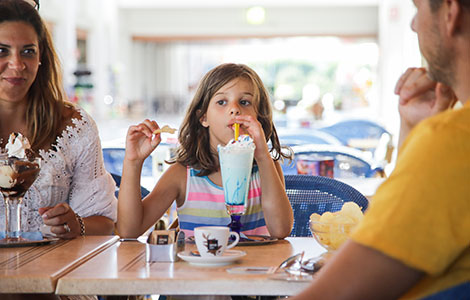 Casa del Gelato – Artistic ice cream in the old town centre
This is the perfect place for those with a sweet tooth… not to mention art lovers! Surrounded by colourful, historic buildings in the streets of the old town centre, this ice cream parlour serves not only traditional flavours and classic cones and cups that you can enjoy as you walk around, but also genuine works of art to savour as you sit at its tables, with incredible colours, remarkable shapes and breathtaking textures! Combine all of this with the extremely high quality of the ingredients and you've got a truly amazing treat for the taste buds. The brioches and cappuccino are also out of this world.
Casa del Gelato is at 36 Rio delle Botteghe, 30021 Caorle (VE) and the telephone number is +39 0421 81226. It's open every day in the summer.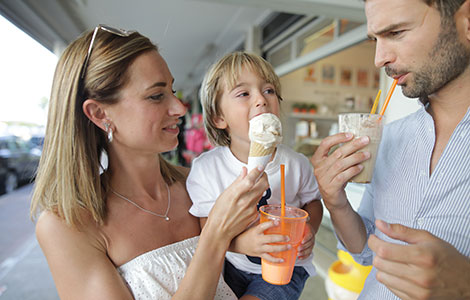 Punto Gelato – Natural ice cream in Caorle
We'd recommend this ice cream parlour to everyone who likes organic food and natural products. At Punto Gelato you can find a host of natural, healthy products, including a vast range for vegetarians, vegans and people with coeliac disease. Don't miss out! Pop in during an evening stroll by Levante beach, as you admire the "living rocks" (link to the post) and the enchanting Sanctuary of the Madonna dell'Angelo in the background. If you've never had them, try the Basil and Madagascar Vanilla flavours: they're simply sensational!
Punto Gelato is at 7 Via Lungomare Trieste, 30021 Caorle (VE) and the telephone number is +39 324 6305105. It's open every day from 11:00 am to 6:30 pm.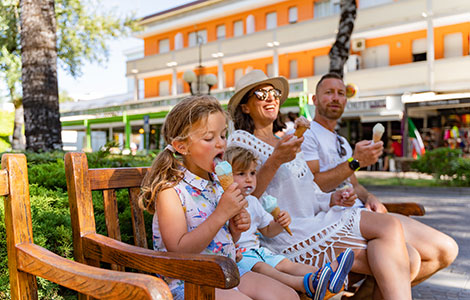 Laguna Beach – The ideal ice cream for a stroll on the Caorle seafront promenade
Finally, if you love walking down by the living rocks in Caorle then stop off at Laguna Beach for some mouth-watering natural, traditional ice cream during a stroll in the most spellbinding part of town! There's something for everyone and there might be a bit of a queue because the natural, creamy products are hugely popular, but it's definitely worth the wait! The friendly staff will greet you with a smile and you can always find new flavours.
To get some ice cream from Laguna Beach, go to 22 Via Roma, 30021 Caorle (VE). The telephone number is +39 366 2153114 and it's open every day from 2:30 pm to 10:00 pm.
.
Would you like to try all of these ice cream parlours in Caorle? Get in touch with us, book a holiday and you can go to a different one every day during your stay.
Sign up for our newsletter to keep up to date with all of the latest developments in Caorle. As well as news and information, we'll send you details of unbeatable holiday offers.