Caorle Luna Park
One of the many great ways to have a carefree evening with the kids in Caorle is to spend a few hours together at Caorle Luna Park. Located right next to the "Aquafollie" water park, just a short walk from the old town centre, it's a fairground with endless fun on offer for young and old alike. It's an exceptionally run site with something to suit people of all ages, including attractions for adults and rides for youngsters with reasonable prices.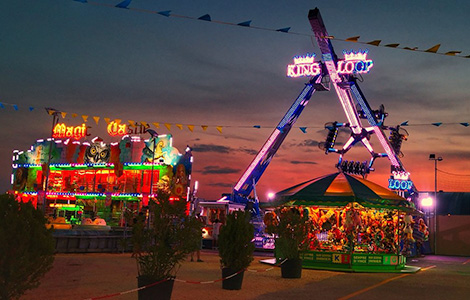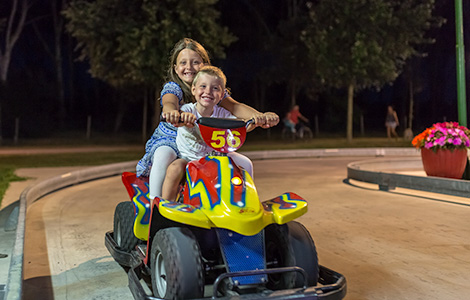 Try them all: from the famous Wacky Worm coaster and the Western-themed train to the hall of mirrors, the roller coaster and the bumper cars. You'll be spoilt for choice. Your kids will have a whale of a time and you'll be delighted to see the smiles on their faces. You're bound to have an amazing, unforgettable evening thanks to the wonderfully welcoming, festive atmosphere created by the host of colourful lights, music and stands selling delicious snacks and refreshing beverages. If you like, you can take the "Orient Express" train to the fairground from the town centre. It's an exciting experience that children always enjoy.
Aquafollie Water Park in Caorle
If your family like water parks, you'll be delighted to hear that "Aquafollie" – which is located at the entrance to the resort, near Caorle Luna Park – is one of the best theme parks in the Northern Adriatic. You can spend a whole day there among the pools, slides, kiosks and sun decks.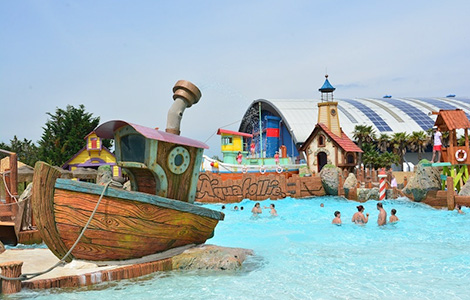 Aquafollie is home to a wide range of water features, slides and pools with facilities that are ideal for families with children of all ages. Take the time to enjoy everything that's on offer: bask in the warm rays on a sun lounger in one of the many relaxing areas of greenery, go for a reinvigorating dip with your children, and have fun with them in the play areas. Experience the thrill of whizzing down the steepest and most exciting slides, then treat yourself to a relaxing break at one of the many kiosks. You can take your pick from delicious hamburgers, fish and chips, and the range at the fabulous chiringuito. A tasty snack and an ice-cold drink: what could be better?
It is a safe, carefully supervised site with expert staff who are familiar with all of the latest health and safety regulations. For parents with little ones, there is a nursery area with facilities to cater to all of their needs and there are a number of shallow pools that are perfect for children venturing into the water for the first time.
Come and have a magical time with your children in Caorle.