On family holidays, it's always a good idea to choose activities that can keep young and old alike entertained. It isn't always easy to find things that everyone will love, but we're here to make life easier for you by recommending a fun evening for the whole family at the amazing Luna Park Adriatico amusement park in Bibione. Its central location means that it's easy to walk there from almost anywhere in the resort and you can enjoy endless hours wandering around rides of all kinds, target shooting games and stalls stacked high with delicious things to eat. Find out everything there is to know about the amusement park in Bibione!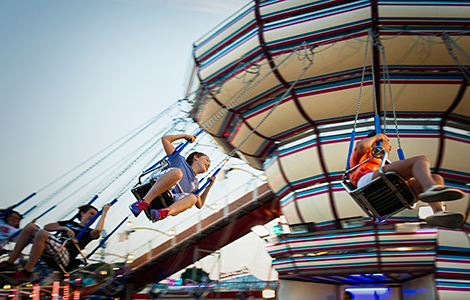 Bibione amusement park: the attractions
People of all ages can have fun at the Luna Park Adriatico amusement park, where the whole family can spend time together and no one will get bored or feel left out. Here's a list of the attractions that you'll find at the amusement park in Bibione:
Wacky Worm: perfect for younger children, this little roller coaster is shaped like a worm/caterpillar and it goes through a tunnel in a huge apple. It doesn't go too fast, which makes it ideal for little ones. Riders sit in twos, so you can accompany your child. There are also restraints to keep you completely safe while you're having fun.
Log flume: suitable for children aged 6 to 12, this ride takes you up a hill and then sends you zooming back down the other side. Great fun and an adrenaline rush are guaranteed. All you need to do is jump into a log and get ready for the splashdown!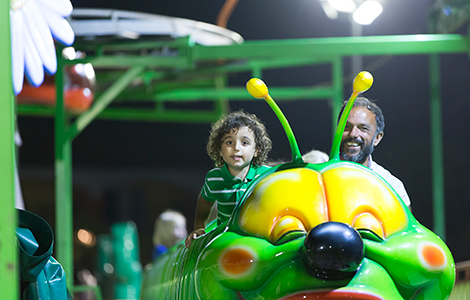 Bumper cars and bumper boats: big favourites with both teenagers and adults. The core idea behind both attractions is the same: hop into a motorized vehicle – either a car on a floor or a boat in a pool – and when your session starts, bump into other people to the sound of music! They're perfect for all sorts of people, including couples and groups of friends who like to compete with each other and have a good laugh.
Roller coaster: A ride that needs no introductions. If you're aged 15 or over and you love the adrenaline rush of racing along the tracks, this is the attraction for you and your friends.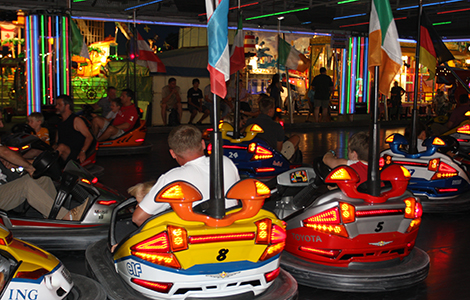 It goes without saying that there are also lots of other attractions, such as a tagada, a Ferris wheel, a house of horrors, and a fun house with crooked paths, halls of mirrors and moving stairs, as well as lots of stalls where you can win prizes by fishing, throwing bouncy balls or shooting targets with airsoft guns!
Finally, if you're feeling peckish, thirsty or an irresistible urge for sweets, you'll find ten or so food trucks serving everything you could possibly desire!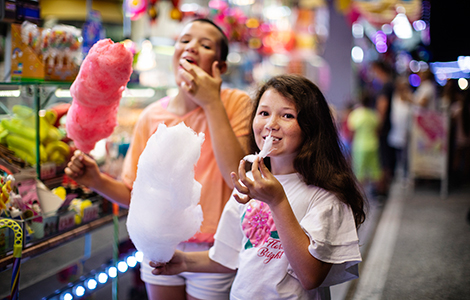 Opening times
The Luna Park Adriatico amusement park in Bibione is open every evening in the summer, until mid-September. To find out the exact date when it closes at the end of the season, ask the local tourist information centre.
The opening times of the amusement park in Bibione are:
7:00 pm to midnight from the start of the season until 31 July and from 16 August until mid-September
7:00 pm to 1:00 am from 1 August until 15 August
Where it is
The Luna Park Adriatico amusement park is in the centre of Bibione, just a stone's throw from the beach. It is within comfortable walking or cycling distance from both Bibione Spiaggia and Bibione Lido del Sole. One of the ways to get there is with a pleasant evening stroll or ride along the seafront. It's extremely easy to find thanks to the signs all over town and its eye-catching lights. If you need the specific address, it's on Via del Sagittario (behind Piazza del Mercato).
Where to park
If you prefer to drive, finding the car park at the amusement park in Bibione couldn't be easier: right outside the entrance is a large, free car park where you can leave your vehicle. It's so simple and – most importantly – stress-free!
Information and contact details
If you need any information, send an email to info@lunaparkadriatico.com
Bibione amusement park: deals and discounts
To see all of the latest deals at Bibione amusement park, visit the official web page:
Are you ready for an unforgettable evening full of fun and laughter with your family on holiday in Bibione? What are you waiting for? Contact our Bibione office now by emailing bibione.spiaggia@lampo.it or calling +39 0431 43306, or visit our website at www.lampo.it to get unbeatable offers on holidays in Bibione!