Bibione is a well-known beach resort in Veneto that is separated from the nearby region of Friuli Venezia Giulia by the Tagliamento River. It lies between the river and the Caorle lagoon, which is lined by distinctive, traditional old fishermen's homes called "Casoni".
As well as sun, sea and the golden sand on its broad beaches, Bibione is home to a host of cultural initiatives, sporting events and recreational opportunities of all kinds. You'll find a vast range of activities and events in Bibione, with something for young and old alike, including plenty to keep families with children amused.
Below you'll find some suggestions about what to do in Bibione and where to go on summer evenings.
Bibione town centre in the evening
Bibione town centre is the ideal place for an evening stroll. It's just a stone's throw from the beach. The top spots are around Corso del Sole – which starts in Piazzale Zenith – and Viale delle Costellazioni, which is the main road in Bibione. About halfway along the latter, its name changes to Viale Aurora.
You'll find a wide variety of shops that are open until late in the evening, as well as numerous restaurants, bars and pizzerias, where you can try traditional dishes, eat delicious pizza and sip refreshing cocktails. In addition, there are countless stores and services that can cater to all of your needs if you're staying in Bibione town centre, including supermarkets, pharmacies, hairdressers, banks, bookshops and launderettes.Some of the main roads (such as Viale delle Costellazioni and Viale Aurora) are closed to motor vehicles from around 7:00 pm until midnight, which makes them perfect for relaxing evening strolls.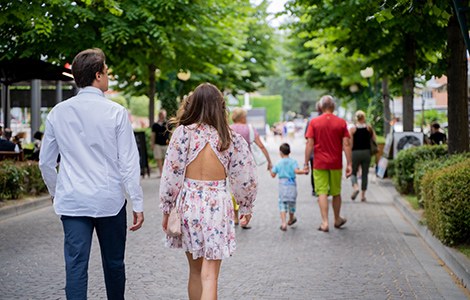 Evening strolls on the seafront promenade
You'll love strolling along the seafront promenade in Bibione. In what's probably the most beautiful part of Bibione, you can enjoy a light sea breeze and sweeping views out across the water. At least once during your stay, make sure you take a trip down to Bibione Lighthouse in the easternmost part of the resort. Between the wild pine woods and the beach is a handy pedestrian and cycle path that'll take you all the way there.
Bibione Lighthouse was renovated a number of years ago and it now often hosts exhibitions and events that are extremely interesting for everyone, including children. As you cycle or walk (it takes around 35 minutes) along the path, you'll hear the sound of the sea in the background as you admire the stunning flora and fauna.
You can find out more about getting to Bibione Lighthouse here!
If you'd prefer to stroll in a more central area of Bibione, follow the seafront promenade west from Piazzale Zenith. Along the way, you might like to stop for an aperitif, a snack or an ice cream in one of the many kiosks, cafés, bars and restaurants by the beach, which are ideal places to have dinner with family and friends.
Late-night shopping in the town centre
If you're a shopaholic, you'll be delighted to see just how many stores there are in Bibione town centre. You can buy all sorts of items, including books, newspapers, a vast array of souvenirs, eyewear, shoes, bags, jewellery and fashionable clothing for adults and children.
There are also plenty of outstanding specialist retailers of local products such as wine, fruit, vegetables, cured meats and cheese, not to mention exceptional freshly caught seafood. Find out about traditional Bibione cuisine and where to eat it on holiday!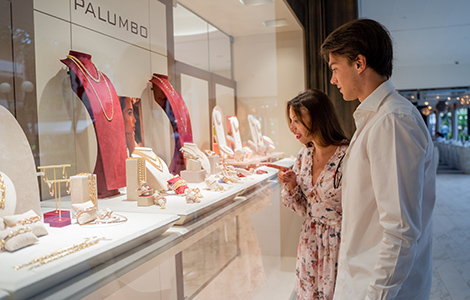 Cultural events in Piazza Fontana
Piazza Fontana is the vibrant hub of breathtaking Bibione. Easy to reach on foot thanks to its location in the heart of town, it's a large, terraced square complete with sparkling fountains that light up with countless colours at night. You'll find endless ways to enjoy your evenings there thanks to the superb selection of shops, arcades, cafés, bars and ice cream parlours all around the square.
Throughout the summer, there are all kinds of cultural and artistic activities and musical events in Piazza Fontana.
Activities for families and children
Even a full day of sea, sun and fun on the beach isn't always enough to tire out our younger visitors. If your kids are still bursting with energy after the sun goes down, below you can find out about incredibly enjoyable evening activities for kids in Bibione.
Outdoor cinema and evening screenings
On summer evenings, one perfect way to keep kids, teenagers and adults staying in Bibione entertained is to head to an outdoor cinema. At around 9:00 pm from Monday to Thursday, the whole family can have fun watching amazing animation movies and other films. They are screened in a number of areas of the resort that are easy to reach on foot:
– Bibione Pineda (municipal park – Viale dei Ginepri)
– Lido del Sole (church garden)
– Spa area
Mini golf in Bibione
Mini golf is a fun game for the whole family. There are a number of courses in Bibione where you can have an awesome time battling it out against each other. It's a great idea if you're looking for things to do in Bibione with kids.
Where can you play mini golf in Bibione? Below you can find all of the essential information about the courses and their opening times:

– Mini golf course on Via Meduna – You're bound to have an enjoyable time at this magnificently maintained 18-hole mini golf course, which is located inside the Rio Arcobaleno Amusement Park at 9 Via Meduna.
Open every day from 10:00 am to 1:00 pm and 5:00 pm to midnight
If the weather is bad, it stays open from 10:00 am to midnight
– Mini golf course on Piazza Copernico – You'll find another mini golf course at 2 Piazza Niccolò Copernico. It's in a little garden that's so full of gorgeous plants and flowers it feels like a nature reserve. The 18 holes on the course are rather large and suitable for players of all ages. It's next to a very nice restaurant, so it's also a great place to have an aperitif or dinner.
Opening times: 10:00 am to 11:00 pm every day
– Mini golf course on Viale dei Ginepri – Another nice mini golf course in a garden full of greenery can be found at 168 Viale dei Ginepri in Bibione. Tall trees provide cool shade and there are handy benches where you can take a break between rounds.
Open from 10:00 am to midnight every day
Bibione amusement park
No holiday here would be complete without a trip to Bibione amusement park, where you'll find rides, attractions and lots of fun for the whole family!
Known as the Luna Park Adriatico, the amusement park is on Via del Sagittario, next to Piazza Mercato in the centre of Bibione. You can head there after a pleasant evening stroll or bike ride, because it's within comfortable walking or cycling distance of Bibione Spiaggia and Bibione Lido del Sole. There's also a large car park for those who prefer to drive there.
As for the rides, some of the most popular attractions for children at Bibione amusement park include the iconic Wacky Worm coaster, bumper cars and a vintage carousel with horses. There are also lots of stalls where you can win cuddly toys and other items.
Some of the biggest hits among teenagers and adults include the log flume (which takes you up a hill and then sends you zooming back down the other side with a splash), the rollercoaster (for real adrenaline junkies), the pirate ship (which will take your breath away as it swings through the air), a tagada, a haunted castle, a 3D simulator and a hall of mirrors. Kids can't get enough of the fun, laughter and dizzying delights on offer!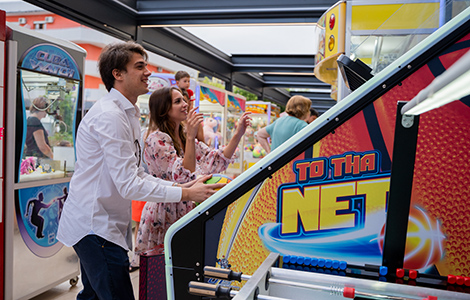 The range of attractions also includes a fabulous Ferris wheel and lots of target shooting games where you can win prizes. Finally, if you're feeling peckish, thirsty or an irresistible urge for sweets, you'll find various food trucks serving everything you could possibly desire, including candied almonds, candy floss and mouth-watering fritters, including ones with Nutella. All of the food's filled with the taste of summer!
The amusement park is open every evening throughout the summer season, until mid-September: it's always best to ask the local tourist information centre in advance to find out the exact closing date each year.
If you visit the amusement park website, you can download vouchers for special deals on certain days: great fun at great prices.
The amusement park opening times are as follows:
7:00 pm to midnight from the start of the season until 31 July and from 16 August until mid-September
7:00 pm to 1:00 am from 1 August until 15 August
If you'd like more information, here you can find everything you need to know to plan an exciting evening in Bibione with your kids!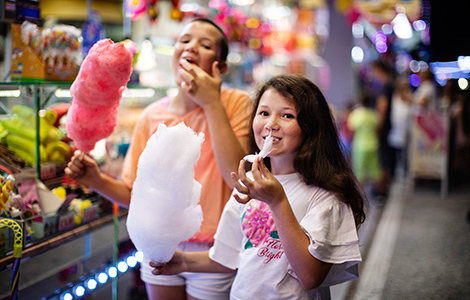 Music and concerts at Bibione stadium
Over the years, Bibione stadium at 10 Via Timavo has been the venue for some huge musical events, including concerts by Ultimo, Salmo and Max Pezzali.
This summer it will host the opening date of the summer tour by Marco Mengoni, the winner of the 2023 Sanremo Festival. Tickets for the show on Saturday 17 June 2023 are available now at TicketOne.it.
Come and enjoy an unforgettable experience thanks to live music and concerts at Bibione stadium!

Riding in the dark: Bibione by bike
Night mountain bike rides in natural surroundings are back in Bibione. Don't miss out on this original experience, which is totally different from cycling during the day.
The activity is open to everyone, including sight impaired people. They can ride on tandems with expert guides, as provided for by a San Michele al Tagliamento town council project to promote social and inclusive tourism in Veneto.

All participants must book by no later than 12 noon on the day before a ride:
Aperitifs and Happy Hours in Bibione
Where can groups of friends go for a drink in Bibione? There are all sorts of great bars in Bibione where you can spend a few enjoyable hours in the evening.

Laguna Beach Drinks & Lounge
If you're looking for the perfect place to have some relaxing drinks followed by dinner, we recommend Laguna Beach Drinks & Lounge at 95 Viale dei Ginepri in Bibione Pineta. As you watch the sunset in Bibione, you can make the most of the superior selection not only at the bar but also in the kitchen, where delicious dishes are carefully crafted. Customers get real value for money and there's a fantastic atmosphere every evening thanks to the polite, friendly staff and marvellous music.

Glow Drinks & Maccaroni
Glow Drinks & Maccaroni (10/B1 Via delle Costellazioni) is one of the most famous bars in Bibione. As well as boasting an outstanding central location, it's a real gem of a bar that charges reasonable prices for unbelievable cocktails accompanied by fried and stuffed olives, mini pizzas, sandwiches and toasted sandwiches, so it's an ideal option when you want to grab a quick bite for dinner. The friendly staff will give you a warm welcome and the sensational sound of live music and DJ sets fills the air.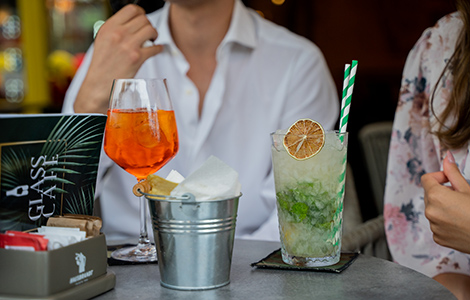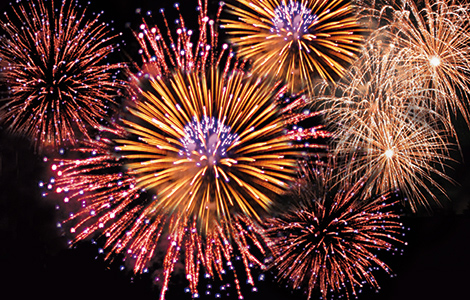 Fireworks in Bibione
Have you ever seen the fireworks in Bibione?
Summer 2023 will be celebrated with evening fireworks displays in Bibione at least once a month. Most famous of all are the Ferragosto fireworks in Bibione on 15 August: find out about the origins of this huge Italian public holiday!
And that's not all! The end of the summer in September is celebrated in style at the renowned, unmissable "Septemberfest", where visitors can buy traditional dishes at food stands and eat them with excellent DOC wines from Veneto. Music and a festive atmosphere fill the air at the event, which will take place on 13 and 14 September in Piazzale Zenith. A fireworks display at 11:00 pm on Thursday 14 September will light up the sky over the sea in Bibione and bring the curtain down on it all.
Find out all about Bibione by night and all the activities you can do on holiday! Sign up for the Lampo newsletter for all of the latest news about the activities and events that'll ensure you have an incomparable stay. Don't miss the chance to enjoy unforgettable experiences!