It'll soon be May Day, which is a public holiday in Italy and many other countries and the perfect opportunity to enjoy a little sea, sand and sunshine. Have you decided what to do yet? If you're still not sure what to do on 1 May and how to make the most of this special occasion, we've got a few great suggestions about how you can spend a wonderful day on and around our beaches. Keep on reading to find out about activities in Jesolo, Bibione and Caorle. You're bound to find something that suits you down to the ground.
Here's what you'll find in this article:
– Why is 1 May a public holiday?

History and origins of International Workers' Day

Activities and events to celebrate May Day


– Things to do on 1 May in Veneto: art, culture and nature 

Unwind in Bibione spa A day out in Punta Verde Wildlife Park

Explore the natural wonders of Vallevecchia


– May Day lunch by the sea

Traditional dishes and ideas for a picnic on the beach
Why is 1 May a public holiday?
History and origins of International Workers' Day
May Day is a European festival with ancient roots, but the modern public holiday in Italy and many other countries is held to mark International Workers' Day. This occasion was first celebrated on 20 July 1889 in Paris, where the meeting of the Second International called for a demonstration asking public authorities to reduce the working day to eight hours. In the 19th century, working days could last as long as 12 to 16 hours.
The celebration was subsequently moved to 1 May, in commemoration of a large rally that began on the same day in Chicago in 1886 in support of workers asking for better working conditions and a shorter working day. The demonstration was bloodily suppressed four days later and a number of people were killed.
There was outrage as the news spread across the world. Still today, 1 May is a public holiday in many countries, including Cuba, Russia, China, Mexico, Brazil, Turkey and numerous EU member states. However, it is not a public holiday in the United States, where "Labor Day" is celebrated on the first Monday of September instead.
Activities and events to celebrate May Day
Every year since 1990, Italy's main trade unions have organized a huge May Day concert in Rome's Piazza San Giovanni in Laterano, which is the biggest free live music event in Europe. Top Italian and international artists perform on the stage.
In France, trade unions organize parades in the major cities.
In Germany, it's an official state holiday and people traditionally wear a red carnation.
In Finland, they celebrate by having one of the biggest picnics in the world and students dress up in costumes.
In Greece, they celebrate workers and the start of spring on the same day.
In Italy, May Day is a very popular occasion. Lots of people like to celebrate by going for a day out and making the most of the warmer weather, thanks to which you can have a lovely time at the seaside.
You're bound to find the ideal experience for you among our suggestions below!
Things to do on 1 May in Veneto: art, culture and nature
If you're planning to enjoy a day out in Veneto, here are a few options:
Visit the enchanting city of Treviso, where the buildings are reflected in numerous waterways. The streets of the old town centre are lined with exquisitely beautiful churches and old buildings. Running alongside some of the latter are porticoes that can provide shelter from rain or blazing sunshine while you're window shopping in the luxurious stores.

If you're a wine lover, head up to the

hills

near

Conegliano

and

Pieve di Soligo

for a mouth-watering meal in a traditional

osteria

, where you can savour delicious wines such as

DOC Prosecco

along with classic Veneto cuisine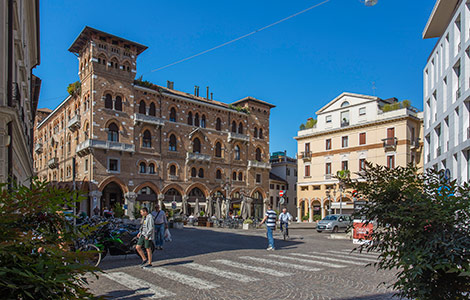 Another interesting city that's definitely worth visiting is

Padua

. It boasts a wealth of historical and architectural wonders that'll blow your minds with their breathtaking beauty, including the famous

Basilica of Sant'Antonio

, the majestic "Prato della Valle" square and the

Scrovegni Chapel

, which contains frescoes by the great artist

Giotto

.

– Then there's Bassano del Grappa, a small city on the Brenta River where you can fill your lungs with the clean air of the mountains and hills. You can spend a delightful day looking around the old town centre and Bassano's various museums, including one all about the First World War. Make sure you cross the famous "Ponte Vecchio", and visit the Nardini and Poli distilleries near the bridge, which are internationally renowned as specialist grappa makers.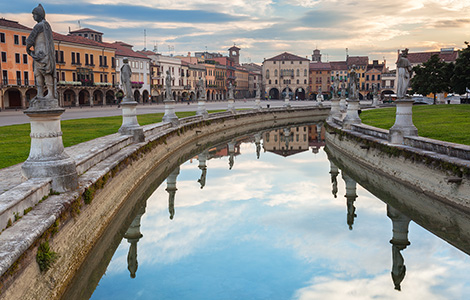 Now that the nice spring weather's here, as well as visiting these gorgeous Veneto cities, on May Day in Veneto we recommend taking a trip to the beach in Bibione, Caorle or Jesolo: strolling along the sand and basking in the sunshine are marvellous experiences that are good for the body and the mind in all sorts of ways.
Unwind in Bibione spa
Who says that spas are only for old people looking for relief from their ailments or rainy days when you can't go to the beach? This couldn't be further from the truth if you're at Bibione spa, where the cutting-edge new wellness centre contains saunas, a Turkish bath and sensory showers. You can take the occasional break from working on your tan on the large sun terrace in the garden to have a dip in the pool. If you like, you can also ask for a relaxing massage that'll leave you feeling amazing.
If you're looking for a relaxing break or you want to recharge your batteries, Bibione spa might be the ideal destination for May Day. Book a visit on the Bibione spa website and treat yourself to an unforgettable experience full of sensory delights.
– From 1 April to 30 September, the spa is open every day from 10:00 am to 8:00 pm. 
– Entrance tickets for the spa pool CANNOT be booked, but all of the types of treatment must be booked in advance by calling +39 0431 441200.

Don't worry if you don't have or you've forgotten something because you can find everything you need here. Slippers, swimming caps, towels, goggles, armbands, swim nappies and swimwear can all be bought and/or hired at the cash desks of the spa pools.
The admission price depends on whether you visit on a weekday, the weekend or a public holiday, as well as how long you spend in the centre and how old you are.– Children under 2 years old: free entrance– Children from 2 to 4 years old: €10.00 to €11.00– Children from 5 to 12 years old: €18.00 to €31.00– Adults: €23.00 to €37.00
To get to Bibione spa by car, take the "Latisana" exit on the A4 Trieste-Venice motorway and follow the signs for Bibione.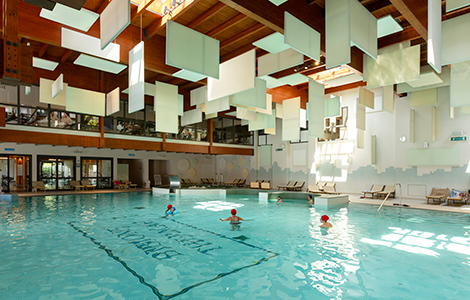 A day out in Punta Verde Wildlife Park
Why don't you treat your kids to an exciting trip to a wildlife park?
They're sure to love spending a day with a whole host of animals, from ferocious predators such as lions and tigers to creatures they'd normally only see in books and on TV like giraffes with their long necks, not to mention domesticated ones that they can even pet, including goats and donkeys.
The ideal place for the experience of your dreams with all kinds of animals is Punta Verde Wildlife Park, which is just 5 km from Bibione in the magnificent town of Lignano Sabbiadoro.
Located next to the coast and surrounded by greenery, at Punta Verde Wildlife Park you can enjoy an immersive experience and get a close look at animals from a number of different parts of the world.
As well as the vast array of animals for you to see, there are activities for children such as educational workshops and games.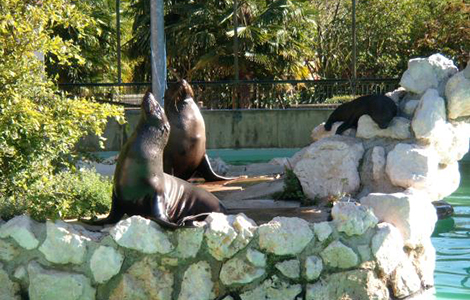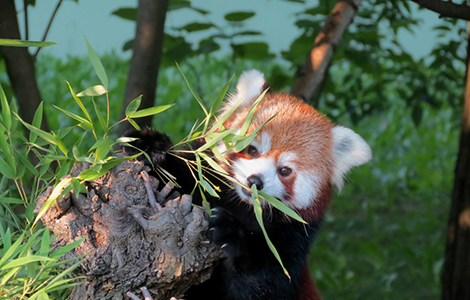 The park also contains:
– A nursery area where parents can feed and change young children 
– A refreshments area with a self-service restaurant and café
– A picnic area
– A well-stocked souvenir shop so that you can take home some mementos from your visit
– A handy car park
If you want to bring your dogs with you, they are not allowed inside the park but there's a special area with pens where you can leave them, while places last.
The wildlife park reopened on 1 April 2023. You don't need to book in advance to visit. It takes at least two and a half hours to have a nice, relaxing look around the park. The entrance prices are as follows:
€18.00 for adults
€14.00 for children between 3 and 11 years of age
Free for children under 3 years of age
See here for more information about Punta Verde Wildlife Park:

Explore the natural wonders of Vallevecchia
May Day in Vallevecchia is a unique, unmissable experience for all nature lovers and outdoor sports enthusiasts.
– Vallevecchia conservation area is one of the best places for birdwatching on May Day because a huge number of migratory and sedentary species can be spotted from the towers. We highly recommend this wonderful experience.
Vallevecchia is a heavenly natural site. Located in the Municipality of Caorle, it spans approximately 900 hectares and is surrounded on all four sides by the waters of the sea, rivers and the lagoon, whose natural riches help to create significantly complex ecosystems of ecological interest. Numerous species of birds can be seen there, including birds of prey such as buzzards and ospreys, as well as doves, terns, purple herons, grey herons, coots, mallards and black grouse.

– In addition, in the peaceful conservation area, it is not uncommon to come across hares, foxes and roe deer grazing happily among the fields and the vegetation.

– The canals and shoals of the lagoon provide ideal habitats for various species of fish that like brackish water, such as eels, which local people stew or grill after they catch them.

– The vegetation in the pine wood that grows alongside the strip of sand on the beach includes numerous species of trees (including native ones),brightly coloured wild orchids and other flowers, so there are some spectacular sights waiting to be discovered if you take a walk along the paths through the wood.

– Finally, there's the beach. The sand slopes gently down into the sea and it's the only wild, natural beach left in the area. After a walk among the natural wonders, it's a fabulous idea to spend a few hours lying on the sand in the warm May Day sunshine, listening to the comforting sounds of the waves gently lapping against the shore.

– Vallevecchia is a very popular spot among bicycle touring enthusiasts because there are routes through the natural environment that are great for long bike rides and, in addition, it has been connected to Bibione and Caorle by a handy "boat link" for a few years now. You can find the times, prices and other information about the XLagoon service.
How to get to Vallevecchia
The Vallevecchia conservation area is in an area known as Brussa and you can get there from either Portogruaro or Latisana. Follow the signs for Lugugnana, Castello di Brussa and then Brussa. From Lugugnana, it takes less than 10 minutes to drive to Brussa.

There is a large car park right next to Brussa beach. It is free in the winter and subject to payment from June to September.
It costs €5.00 a day to park a car and €10.00 a day to park a motorhome. Please note that it is only a parking area and there are no campsite facilities. However, there are showers and toilets, which are cleaned on a regular basis.
There are also vendors selling snacks and soft drinks.
Vallevecchia Environment Museum
It's easy to get to Vallevecchia Museum with the XLagoon Service from Caorle or Bibione. Alternatively, it's just a 10-minute drive from Lugugnana (20 minutes from Portogruaro or Latisana). It gives visitors the chance to get to know the wonders of the Vallevecchia area and the lagoon on the historical, natural, management and production fronts.
There is a large educational workshop, as well as interactive displays and a tower with sweeping 360° views of the natural environment.
– Open from Tuesday to Friday, from 10:00 am to 6:00 pm (call +39 0421 1765659 to check the times)
– Tickets are €3.00 for adults and €1.00 for children aged 10 and under
– E-bike charging stations are available
– Bike hire is available
If you'd like to spend a day in the heart of nature, discovering the wild local flora and fauna, treat yourself to a trip to Vallevecchia on May Day. It'll be an educational, unforgettable experience.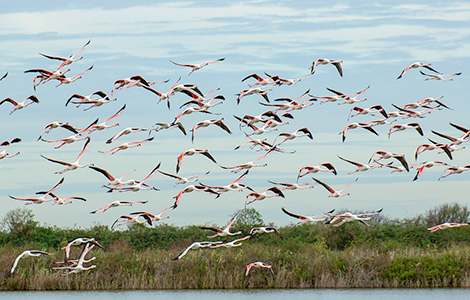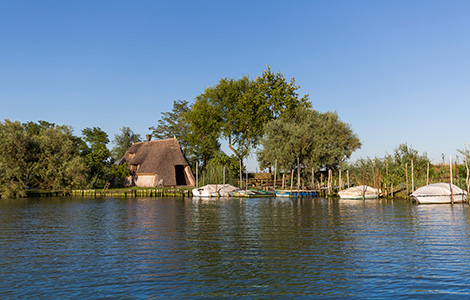 May Day lunch by the sea: traditional dishes and ideas for a picnic on the beach
If you've decided to spend May Day on the beach, all of the local seaside resorts – such as Bibione, Caorle and Jesolo – are home to a vast range of restaurants, pizzerias and cafés where there's something to suit all tastes, from quick snacks to lunch menus full of traditional dishes.
Alternatively, you could bring your own food from home, set up an umbrella on the sand and have a nice picnic on the beach:
– Whip up a delectable ricotta and spinach pie
– Tasty sandwiches with cheese and cured meats 
– Slices of pizza are very handy to eat
– A delicious homemade cake
– And don't forget some refreshing beer and soft drinks
What's to stop you from going to the seaside before the official start of the summer?
There's no better way to begin the month of May than with a day full of sea, sun and sand on our beautiful beaches. Nothing gives you that holiday feeling more than being barefoot in the sand and listening to the waves lapping against the shore. Let the sea and the beach take care of you and get ready for a day of unadulterated delights! If your day by the sea has got you into the holiday mood, visit our website at and book yourself a week of sun, sea and sand in Summer2023.