On cold winter days, what could be better than snuggling up on the sofa with a cup of coffee, opening your laptop and looking for inspiration for your next holiday by the sea? The thought of it alone is enough to make you feel better!
To whet your appetite, we'd like to tell you about a new approach to holidays: slow tourism. It has become increasingly popular in recent years because more and more people are appreciating the importance of sustainability and promoting and protecting the environment.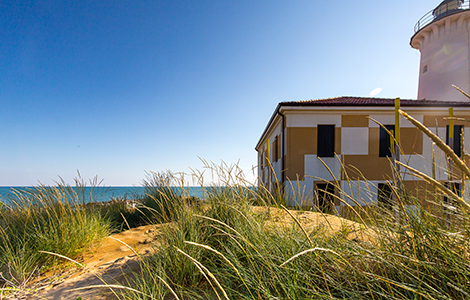 What is slow tourism?
Slow tourism is a careful, conscientious approach to holidays that closely follows the natural pace of things. People who choose slow holidays head to destinations where they can explore natural surroundings in their own time, far from the bustle of big cities. There is growing demand for experiences such as relaxing strolls, bike rides on trails running through natural scenery, horse rides on beaches and leisurely trips in canoes or electric boats along rivers and canals.
Three key things to know about slow tourism
– Thanks to the slower pace, you'll really be able to get to know the local people, find out about their customs and traditions, and enjoy authentic experiences that are a quintessential part of life in the area.
– You'll have an eco-friendly holiday with the lowest possible impact on the environment in terms of both the means of transport that you use and the food that you eat, which in many cases will be organic and locally sourced.
– Slow tourists believe that you can't put a price on time. It's the most precious thing in the world today, especially when you're on holiday! Therefore, it's essential to give yourself the opportunity to make the most of the experience. Take it easy and remember that hurrying around and getting stressed is strictly forbidden!
Once you've grasped these three concepts, all you need to do is plan some slow routes to follow: you'll be spoilt for choice in Veneto. Wherever you choose to go, by the end of your stay you'll feel like a new person and you'll take home some unforgettable memories of new things that you've learned, as well as engaging, fulfilling experiences that you'll be eager to repeat.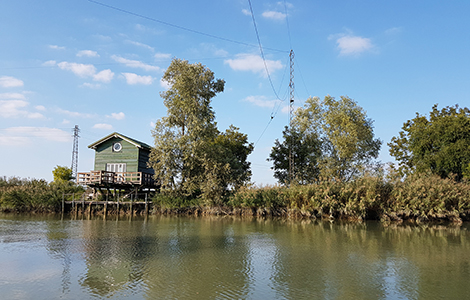 Where can you enjoy slow tourism in the Northern Adriatic?
The whole of the Eastern Veneto area is ideal for holidays of this kind, maybe because life by the sea has always moved at a gentle, relaxed pace. In addition, there are numerous activities and day trips on offer. We would like to recommend two in particular.
Slow tourism in Veneto: Bibione and Valgrande
Over many years, Bibione has earned a reputation as a great place for nature holidays. Visitors can take part in all sorts of outdoor sports and activities in exceptionally beautiful natural surroundings, such as the seashore, the pine woods and the lagoon.
We'd like to recommend the trails in "Valgrande": an area of 360 hectares to the North of Bibione that was used as fishing and fish farming grounds for centuries and has now become a conservation area. It is home to priceless treasures and is one of the most interesting sites of its kind in Europe. As you walk or cycle past the water and the woods, you might come across hares, pink flamingos, hedgehogs, golden eagles, roe deer and tortoises. You can also admire numerous species of plants in this natural haven, which is remarkable for its biodiversity.
You will take home some incredible pictures and memories from your holiday. There is nothing quite like the spellbinding sensation of spotting roe deer and their fawns when you're riding a bike or a horse through the pine woods, or seeing the flocks of flamingos that stop here from late June until August. Whether you go horse riding, cycling, kayaking or simply walking with an expert guide for a few kilometres, you'll be treating yourself to some enchanting experiences in the heart of an unblemished natural environment.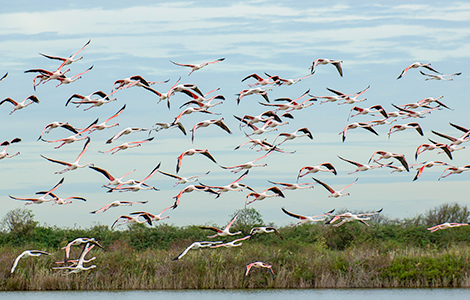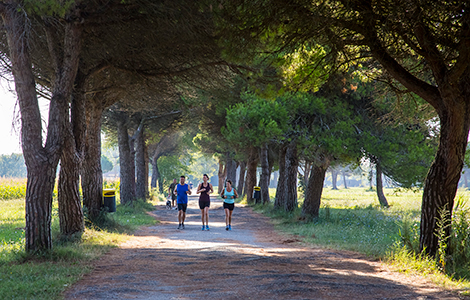 Slow tourism in Veneto: Cavallino, in the Northern Lagoon
Ever since the 1960s, this has been a hugely popular destination for motorhome lovers and all those who like to feel at one with nature during their holidays. Cavallino-Treporti is the strip of land that stretches from Jesolo to Punta Sabbioni. It is a wonderful place for sublimely slow holidays thanks to the marvellous cycling routes running through the fields and the numerous agritourism establishments where you can savour locally sourced fish and meat specialities.
What's more, after a great day on the beach you can watch the stunning sunset over the Northern Lagoon, perhaps as you sit comfortably and enjoy a glass of delightfully chilled DOC prosecco and some crispy fried fish in the portico of a traditional osteria on the shore.
Slow Tourism is a genuine philosophy of life that revolves around the core values of environmental friendliness and appreciation of traditions and good food. It is all about really getting to know the places that you visit on holiday and helping to safeguard all of their treasures in everyone's interest.