We've finally reached that time of year when there's less of a chill in the air, the days get longer, the sun gets warmer every day and the first buds appear on the branches: spring is just around the corner and we can't wait to spend more time in the open air and start planning our holidays.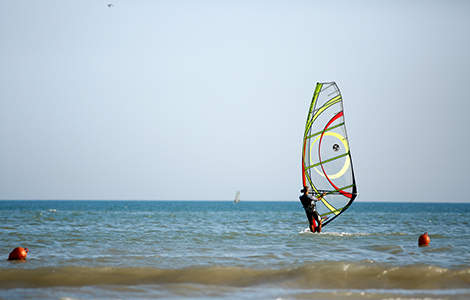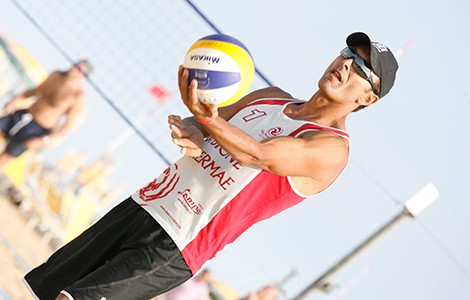 Sporting events in Bibione
If you're a sporty person or well-being and healthy habits play a big part in your life, we'd like to recommend a list of sporting events in Bibione in 2021 so that you have plenty of time to make arrangements and take part or simply enjoy these exciting sporting occasions as a spectator.
For many years, Bibione has been the number one destination in the Northern Adriatic when it comes to holidays for sport lovers and fans of outdoor activities, with a vast range on offer at all times. Below you can find a packed selection of summer 2021 events in Bibione, all of which will obviously meet strict health and safety standards and comply with all of the relevant rules and regulations.
Bibione Yoga Retreat
If you love boosting your well-being in the great outdoors, this event from 28 to 30 May is the perfect way to enjoy a unique experience in natural surroundings, as you breathe in the clean air and listen to the sound of the waves. Relish a relaxing weekend under the guidance of famous, experienced international gurus, as you discover the benefits of various types of yoga and learn about their origins amid the breathtaking greenery of Bibione. The sessions will take place in Piazzale Zenith, from 9.00 am until 6.00 pm each day.
Beach Volley Marathon
The biggest event around for the quintessential sport on the sand will be back this year from 11 to 13 May and from 17 to 19 September. The Mizuno Beach Volley Marathon is the biggest open beach volleyball tournament in the world and in 2021 it's going to be more spectacular than ever: 275 courts spread out over 120,000 m² of sand are ready to welcome people of all ages and standards, who will flock here from all over the world. Players can start signing up from 8 April.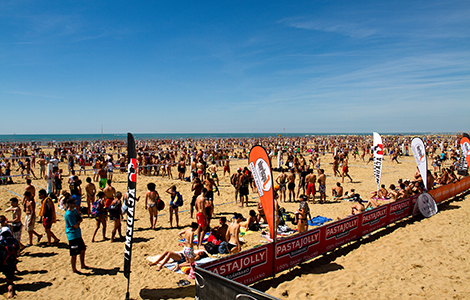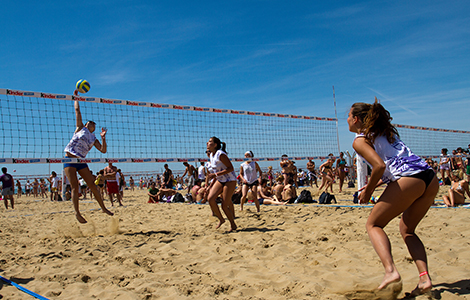 Junior Beach Volleyball Tournament
Bibione endeavours to offer all of its guests a fun, healthy time. With this in mind, from 18 to 20 June it will play host to an entire Junior Beach Volleyball tournament for age groups from under 10 to under 19. It's an exciting sporting experience that gives youngsters a chance to make new friends during a fun, healthy sports competition. The courts will be set up on the beach by the Villaggio Turistico Internazionale area.
Five-a-side football – Erreà Cup
This selection of amazing events wouldn't be complete without the most popular sport in Italy: football. An unmissable summer tournament for male and female five-a-side teams will be held on 26 and 27 June. It's a marvellous way to spend a sporty weekend having fun with your friends. The matches will be played on natural grass pitches and up to 192 teams can sign up to compete for a total prize fund of €10,000.00.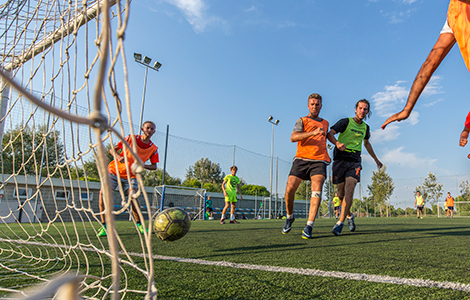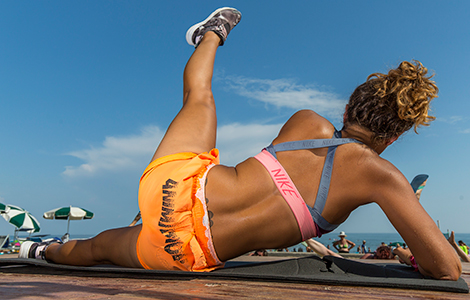 Bibione Beach Fitness
In addition to the second instalment of the Mizuno beach volleyball tournament, from 17 to 19 September the resort will serve as the location for the most eagerly awaited summer event among all fitness and aerobics enthusiasts: Bibione Beach Fitness. This year, all sorts of enthralling new fitness formats will be on display on dozens of stages on the sand, just a few metres from the sea. Complementing it all will be the charismatic qualities of top international trainers, who will soon get your blood pumping to the sound of music in the September sunshine.
And if you like going wild to the beat, check out the Spritz Party on the Beach!
It goes without saying that countless events liven up the Bibione nights all through the summer, but the most sensational of all is unquestionably the Spritz Party on the Beach, which takes place in tandem with the Beach Volley Marathon. Let your hair down and savour the famous Aperol Spritz on Bibione beach with your friends, to the sound of music played by the hottest DJs around!
For information about booking stays during these events, please don't hesitate to contact our branches in Bibione!