You spend the whole year looking forward to your holidays, when you can finally unwind, take care of yourself and enjoy being with your loved ones, making the most of your free time, basking in the sunshine and taking reinvigorating dips in the sea.
We'd like to provide you with some useful information about the approach to health and safety on the beaches of the Northern Adriatic in order to reassure you that you will be able to have a carefree break and count on dedicated, professional support at all times.
Medical assistance on holiday
The ULSS 4 local health authority is responsible for the beach resorts in the Northern Adriatic from Cavallino Treporti to Bibione. Due to the exceptionally large influx of tourists in the summer, it is extremely dedicated to ensuring that all of the services work perfectly in both quantitative and qualitative terms. Below is an overview of some of the services provided for tourists.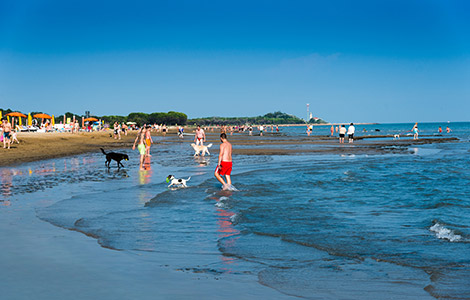 Out-of-hours medical assistance and emergencies
A medical assistance service for non-urgent cases is available every night and on public holidays and the days before public holidays. To ask for assistance, call +39 0421 484550.
Please note that the out-of-hours medical assistance service is not for urgent cases and emergencies. In the event of emergencies, call 118: this service is available 24 hours a day.
If you have important or specific needs, you can go to the first aid stations in Jesolo, Caorle and Bibione, or the local hospitals in San Donà di Piave, Portogruaro, Jesolo and Latisana.
We will always be happy to provide help or information during our office opening hours.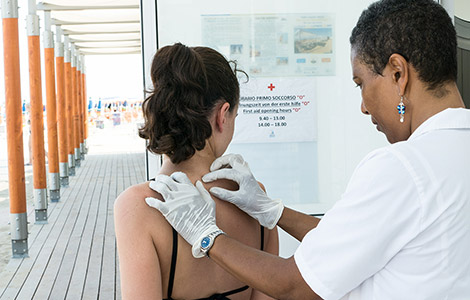 Specific medical assistance on holiday
Bibione is the ideal place for disabled people to have an enjoyable, relaxing holiday. The same applies for those with specific medical needs such as haemodialysis, physiotherapy at home or regular specialist check-ups.
In addition, for some years now Bibione has been an "Accessible Destination" thanks to the efforts of numerous local members of the tourist industry who have decided to provide V4A (Village for All) certified facilities with no architectural barriers, thus enabling everyone to have comfortable, relaxing holidays.
On the beach, you can ask for the umbrellas that are nearest to the boardwalks for easier wheelchair and pushchair access. There are also special pitches with flooring that can be set up quickly by the staff. Furthermore, there are ramps at all of the beach access points and routes in the town with no architectural barriers. The kiosks on the beach are also equipped to welcome disabled people.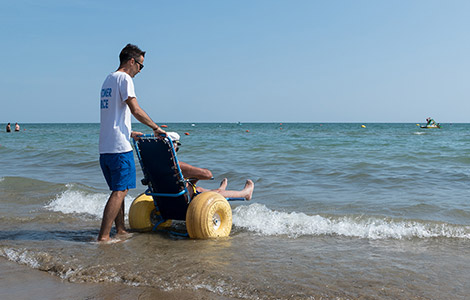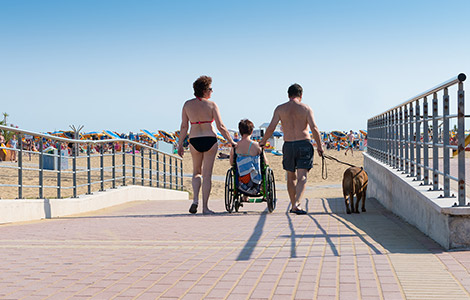 Bibione Dialysis Centre
As mentioned above, Bibione can provide haemodialysis services in its Summer Dialysis Centre, which is open from 1 May to 30 September every year.
All haemodialysis sessions are overseen by doctors and nurses with expertise in dialysis procedures, under the supervision of the Renal Medicine and Dialysis operating unit of San Donà di Piave, Portogruaro and Jesolo hospitals. To make a booking, simply send a request by fax or email using the details provided below. The centre will let you know when appointments are available and also send you a list of test results that you must send to them two weeks before your arrival.
BIBIONE DIALYSIS CENTRE – VIA MAJA, 6 – 30028 BIBIONE (VE), next to the first aid station and just a stone's throw from the beach. TEL/FAX +39 0431437135 – nefrologia.bibione@aulss4.veneto.it 
Bibione spa centre
Finally, if you really want to savour a sense of well-being during your holiday by the beach, in Bibione there is a seafront spa centre. Everyone can benefit from the therapeutic properties of the spa water, which emerges at 52°C from a hot spring at a depth of 500 metres.
The centre is called Bibione Thermae and it provides targeted spa therapy and treatments that are accessible to all, including mud therapy, inhalation, diagnostic services, physiotherapy, and paediatric services for children with respiratory conditions. There are also indoor and outdoor thermal spa water pools, a wellness area with a sauna and a Turkish bath, and other exceptional spa facilities.