Have you started thinking about your next holiday yet? Summer is just around the corner. Are you waiting to book because you want to be sure that your canine companion can join you on your family holiday?
Holidays with pets in Veneto
We're on the case! Below you'll find comprehensive details of dog-friendly destinations, so you can decide where to spend your 2021 summer holiday.
Holidays with man's best friend in Bibione
With its host of natural wonders, Bibione is the ideal Veneto destination for a holiday that boosts the well-being of the whole family, including their beloved pets. The great care taken over the latter is underlined by Pluto's Beach near Lido dei Pini, where you will find 250 spots on the sand boasting a full range of facilities: umbrellas, deckchairs, sun loungers, bowls, lead holders, waste bags and showers. You can now also get special "Ice Bau" ice cream for dogs. In addition, in Bibione there are "Agility Dog" courses so that you can carry on training during your holiday, as well as lots of little roads and paths in the green pine woods where you can go for a walk or a bike ride together.
Numerous establishments in Bibione welcome pets with open arms. Search on our website using the "Small pets allowed" filter to see our best offers for pet-friendly apartments in Bibione.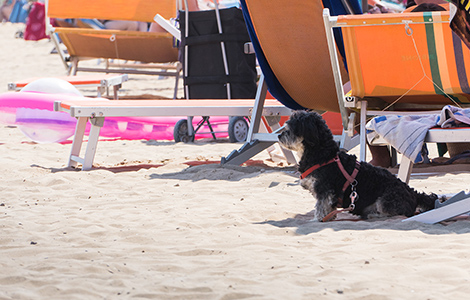 Holidays with your canine companion in Caorle
Do you dream of walking your dog along the seafront by Caorle's "living rocks"? Or maybe going for a run together towards the traditional fishermen's homes known as "Casoni"? Caorle is the perfect place not only for family holidays, romantic getaways and breaks with friends, but also for a revitalizing stay with your dog or cat. At the end of Lungomare Trieste on Levante beach you will find "Caorle Bau Beach", which provides a vast range of facilities for dogs and is also cat-friendly. Meanwhile, Ponente beach in Caorle is home to the Pets' Beach Area: part of the public beach where you can stretch out on the sand with dogs and cats as long as you keep them on a lead. There is even a special access route to the sea so you can take a dip with your pets. In Porto Santa Margherita you can take your four-legged friends to the beach at Bagni Margherita and Bagni Arcobaleno, where there is a specially equipped area.
You can find all of the latest information about apartments in Caorle that accept small pets on our website. Use the filter on the left-hand side of the page.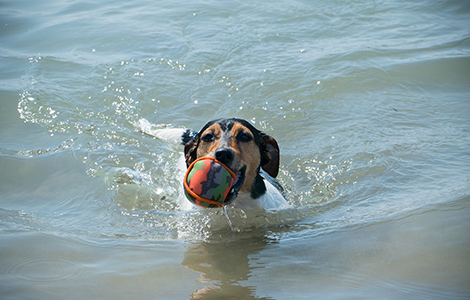 Holidays with dogs in Jesolo
Jesolo provides services of all kinds for people of all ages and it has been hugely popular with Italian and international tourists for many years. On Via Levantina near the hospital you can make the most of the outstanding facilities at "Bau Bau Beach", including an area for dogs, bowls, showers and a dog agility course. Enjoy unforgettable days having refreshing dips in the sea, relaxing under your umbrella and playing on the sand with your faithful friend. Specialist members of staff are available on the shore to offer advice if your pet is having problems and take action if dogs are not getting on with each other. There is also a special area for pets in the public part of the beach near Jesolo lighthouse. Just make sure you keep them on a lead.
You can find all of the pet-friendly apartments in Jesolo using the "Small pets allowed" search filter on our website.
Always remember to bring an animal health certificate or pet passport on holiday to show that your pet is in good health.