We've put together some tips to show just what a great destination Jesolo is for families with children of all ages.
Outstanding services
First and foremost, the facilities on the beach are exceptional: all along the 17 km of golden sand are sun loungers, umbrellas, showers, jetties, play areas, cafés, bars and kiosks. In addition, there are public areas of the beach and a few years ago a special area called "Bau Bau Beach" was opened for holidaymakers who want to bring their dogs with them.
Finally, you can rest assured that this is a healthy place for you and your children to visit because for many years now Jesolo has proudly flown a "Blue Flag" thanks to the quality of its water.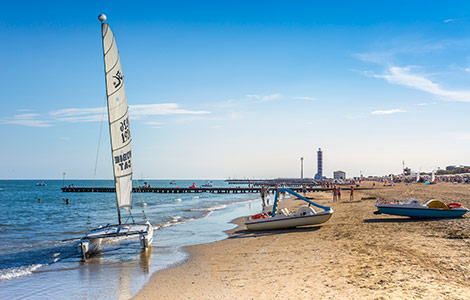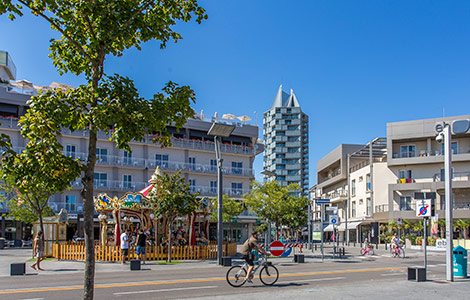 The longest pedestrian zone in Europe
In Jesolo you'll find numerous businesses and services in the longest pedestrian zone in Europe: shops, boutiques, supermarkets, cafés, bars, restaurants, pubs, ice cream parlours, gyms, amusement arcades, bazaars, and much more besides.
You'll be able to enjoy totally safe, carefree family strolls around the town centre in the evenings, without having to cross any busy roads. It's great fun for youngsters and much more relaxing for parents.
Attractions for kids in Jesolo
Jesolo is home to a host of theme parks that the whole family will love: as well as children and teenagers, there's also lots for mums and dads to enjoy.
The wide range of attractions includes Caribe Bay: a water park with a Caribbean theme and slides inspired by the Aztecs, where you can unwind on white sandy beaches as your children play in wave pools of various depths and have a great time with the friendly entertainment team.
If you're feeling peckish, you can grab an ice cream or a snack at the cafés or the chiringuito. In addition, there are lots of acrobatic displays and games for kids. You'll feel like you're in a dream world!
In the evening, the whole family can have an amazing time at Jesolandia. It's a theme park that opens at 8.00 pm every day and has more than 35 rides, including a rollercoaster, a Ferris wheel and a wide range of attractions for young children.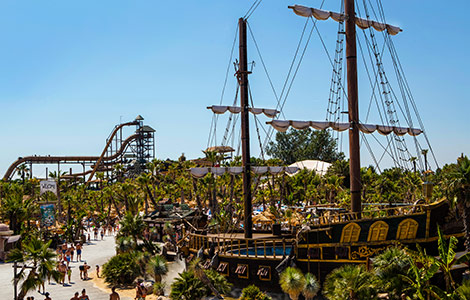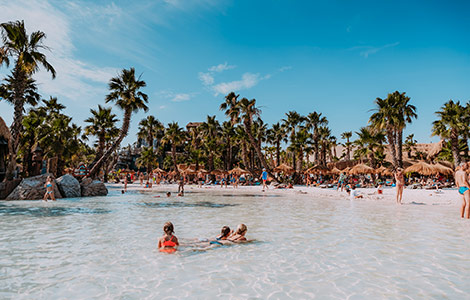 If you prefer your kids to learn while they're having fun, the Tropicarium Park is the place for you. Located just around the corner from Piazza Brescia, there are many different species of reptiles, birds and amphibians in its unique, fascinating collection. At the end of the exhibition route, you'll find a medical centre for the animals and a nursery for the latest arrivals.
Another breathtaking experience on offer here is diving into the underwater world: at the Sea Life centre, your kids will have a magical time learning about what lies beneath the waves. Many different species of fish, corals and jellyfish await you in the town centre, near Piazza Brescia. Are you ready to come face to face with sharks?
Attractions for teenagers and young adults in Jesolo
What if your children are older? For a start, don't forget that Jesolo still has the best clubs on the coast. They've been at the forefront of the local nightlife for 50 years, with a stunning selection of international DJs and music to light up the summer nights of young people from all over the world. The Muretto, the Marina Club and the Vanilla Club are just some of the many great spots that we recommend.
Are your children as fashion conscious as most teenagers? How about a little shopping at the McArthurGlen Group's Noventa di Piave Designer Outlet? It'll be a chance for you to spend some quality time with them and they're bound to be delighted with their purchases, although your credit card might take a bit of a pounding!
Located just a few miles from the beach, it's home to a vast selection of shops selling products by top brands at astounding prices.
There are also cafés, bars, crêperies and ice cream parlours where you can stop for a refreshing break. In addition, there are spots with original decorations that are perfect places to take super chic selfies!