Veneto is one of the regions with the highest number of water parks in Italy. Fun and full of attractions, they're great places to have a good time outdoors.
If you've booked a beach holiday in Caorle with us, make sure you spend a day at the Caorle Aquafollie Water Park before you go home.
The slides and pools in the Aquafollie Water Park are inspired by the image of a fishing village. Exciting new areas and attractions are added every year. There's plenty of shade, you can stop for a bite to eat and the entertainment team will keep you amused, so you'll have an amazing day.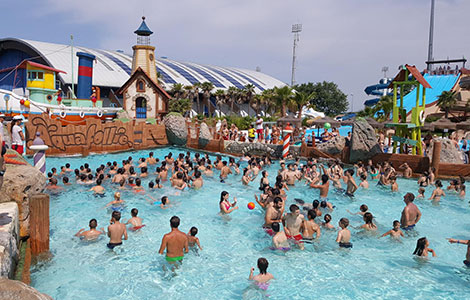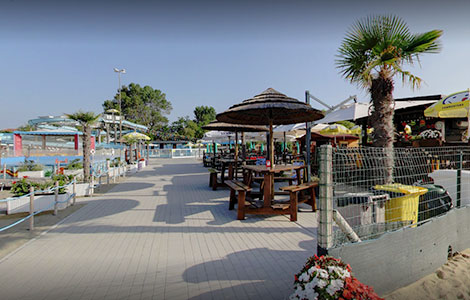 If you're looking for a water park in Caorle that's fun but smaller, with more of a cosy atmosphere, Aqua Inn Caorle is the place for you. In this spot just a stone's throw from Ponente beach, there's a pool with a cool slide and a handy kiosk selling refreshments.
Have you chosen one of our aparthotels or holiday homes for your beach holiday in Jesolo? You might be planning on spending time alone under a beach umbrella, but we recommend taking the short trip to Caribe Bay: a water park in Jesolo that was named the best attraction of its kind in Italy. With thrilling slides, relaxing pools and white sand, you'll feel like you're in a Caribbean island paradise. It's suitable for both families and groups of friends. You can hire umbrellas and sun loungers, eat in one of the many restaurants and watch acrobatic displays by the entertainment team.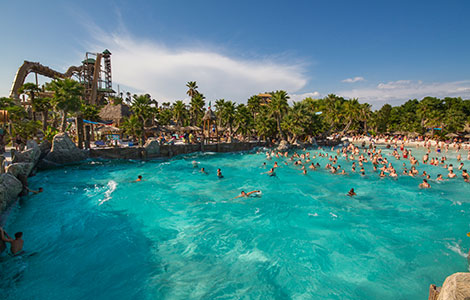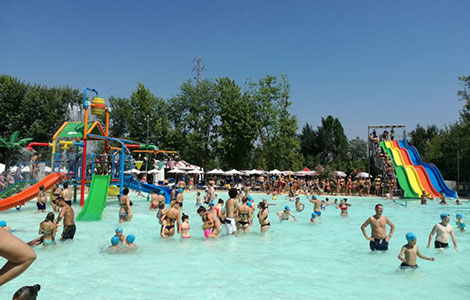 The Aquaestate water park in Noale is strategically located just a few miles from Padua, Treviso and Venice. With pools, play areas, plenty of shade and picnic spots, it's a great place to spend a last few hours relaxing on your way home from your holiday. There are all sorts of things to do, including swimming in the numerous pools, taking aqua fitness lessons and using the many sports fields. Free Wi-Fi is available throughout the site, so you can share photos with your friends on social media instantly!
We're breaking the rules slightly with our last choice because it isn't a water park in Veneto, but if you're on holiday in Bibione with your family then we recommend it because it's definitely the closest. We're talking about Aquasplash in Lignano Sabbiadoro. Check out the pools with wave machines, musical atoll, winding slides, trampolines, games room and sports fields.
Take our advice and have an original day out in one of the most popular water parks in Veneto!