We tend to think that the concept of "environmental friendliness" is a complex thing to explain to children, but at the same time we all appreciate the growing need to promote the health of the planet by raising awareness of the issue among young people.
Until just a few years ago, the environment was almost dismissed as little more than a fashionable topic for newspapers, magazines and talk shows to use as filler material. However, we now all realize that concrete action must be taken urgently in order to reduce pollution and preserve the planet for future generations.
There's a pressing need to make changes to our current lifestyles, which harm the planet in all sorts of ways, such as producing mountains of rubbish, wasting natural resources and polluting the air. In addition, it's important to teach children all about it and set an example so that they can learn to love the wonders of our world and understand that it needs to be protected.
Lido Altanea is relatively new compared to many other Italian beach resorts. It took shape in a farming valley, which has now been transformed into a relaxing haven surrounded by greenery that looks out on the Adriatic Sea. The overall design ensured that there were low-rise buildings and large garden areas in every village. This makes the whole landscape welcoming and ideally suited for comfortable holidays. In recent years, Lampo Group has planted several thousand trees and a number of species of shrubs. This has helped to spread the greenery beyond the gardens of the villages to sport, recreation and entertainment areas and tree-lined avenues.
The magnificent beach holiday resort has found the perfect mascot to underline its nature-friendly status: an affable tree named "Olmo", which is Italian for "Elm". The choice of moniker is in keeping with the tradition in Lido Altanea, where all of the villages are named after trees. The mascot has appeared on posters, brochures and uniforms for years. From 2019, there is now also a life-size version who greets all of the children visiting Altanea, dances with them and poses for selfies. He's already proved to be a big hit.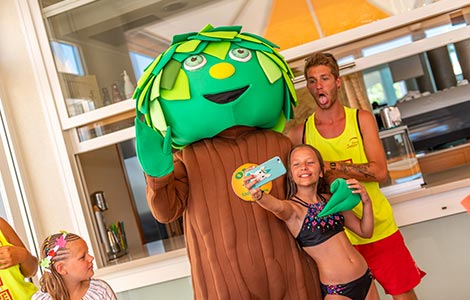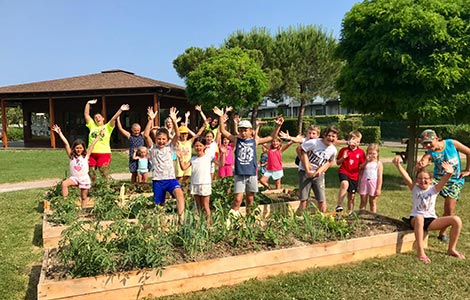 Furthermore, as of this year Olmo has a crucial educational role to play. He's the spokesman for a campaign to promote respect for nature and natural resources among all of the children on holiday in Lido Altanea. He does it in a fun way and plays cheerfully with youngsters while also giving them flyers with simple illustrations of tips to follow in everyday life: turn off the tap while you're rubbing soap into your hands or cleaning your teeth, opt for reusable shopping bags, turn off the lights when you leave a room, travel by bike instead of car whenever possible, and so on.
As part of his environmentally friendly efforts, he joins the entertainment staff and encourages children to eat locally grown fruit and vegetables at snack time by bringing baskets of free apples, pears, carrots and peaches. In addition, he gives kids little Olmo skin transfers to help them to remember their holidays fondly after they go home.
One of the most popular green activities for kids is working in a little educational garden. It was introduced this year and it's already immensely popular with aspiring young horticulturists. They learn how to grow new plants, pick vegetables that are ready to be eaten, do the watering and closely watch the growth process all of the way from the seed to the fruit. It's a brand new experience for numerous children from towns and cities who've never had the chance to look after a garden.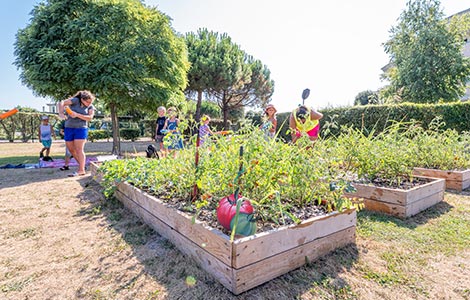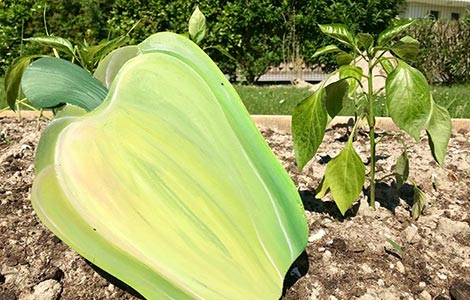 Finally, Olmo asks children to save up plastic bottle tops and take them to the collection point at the Peter Pan play park. At the end of the season, all of the bottle tops will be taken to the "Via di Natale" association in Aviano, where they'll be used to help people who are going through difficult experiences. The initiative has the dual goal of getting youngsters used to collecting materials for recycling while also raising awareness about other children who aren't as lucky as them.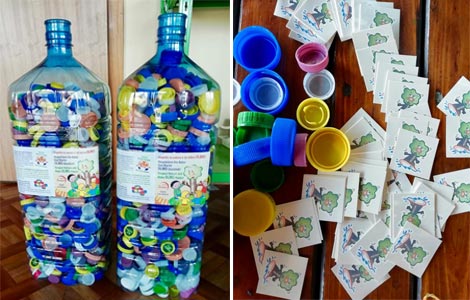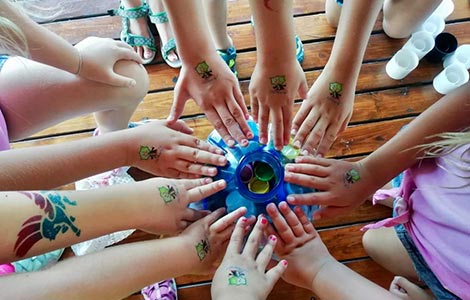 There are countless ways to play and have fun with Olmo in Lido Altanea! All of the children will take home wonderful memories of their holidays at the seaside and growing awareness of their responsibility towards our planet.
Olmo can't wait to meet more children and give them his priceless "Green tips". Follow the advice he gives in his motto: Go green and go to @Altanea!