Tag: beach
The blog of the Venetian beaches
5 things you are going to miss of your holiday with Lampo Agency

How nice is to go on holiday? At least once a year we need to get away from the stress of everyday life, have a change of scenery, take the time for ourselves and do what we love most in a quiet and relaxed atmosphere. That's why you decide to contact us in Lampo Agency and book an … Continued

5 dishes to eat on the beach

What is your typical day at the seaside? In my childhood memories, during our days of vacation at the seaside we usually woke up calmly, we had a big breakfast, and then we went to the beach where we stayed until the late afternoon. That means that we had lunch under the sun umbrella with the food that my mother prepared and put in the fantastic thermal bag (which is still hidden in a dark corner of our cellar I think).
Warning
: Invalid argument supplied for foreach() in
E:\inetpub\A-www.lampo.it\wp-content\themes\lampo\lib\pagination.php
on line
35
Events and organized tours
Find out about all the events and the activities happening in the area to make your stay unique and unforgettable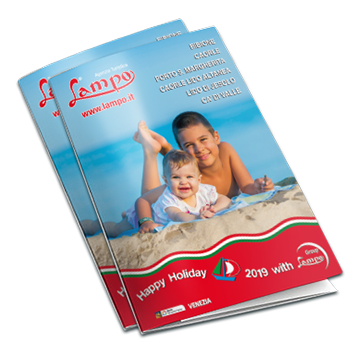 The Lampo catalog
Price lists and updated offers
Detailed descriptions of our facilities
Useful information on locations and activities available
Browse online or download the Pdf