Take a look at some mouth-watering gluten-free options
Jesolo is renowned for its vibrant night life and it has bars, clubs and restaurants to suit all tastes. Although there are no places that only serve gluten-free cuisine, there are numerous restaurants that have a wide range of gluten-free dishes on their menus alongside the more traditional items.
We've put a list together to introduce you to some restaurants that you might not know!
Gluten-free restaurants in Jesolo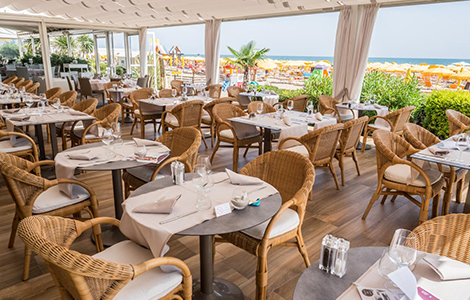 TERRAZZA SORRISO: open all year round, it is at 13 Via Bafile 10° Accesso al Mare in Jesolo. This is the perfect place for a romantic moonlight dinner by the beach, with the comforting sound of the waves in the background, but the magnificent sea views mean it is also an outstanding choice in the daytime. Sorriso is a restaurant with an exceptional selection of dishes that combine irresistible colours and flavours. It gives a modern twist to a wide range of traditional recipes and it has lots of delicious gluten-free options to offer. Whenever possible, the chef strives to use superior, seasonal fresh products. Dogs are welcome and they are treated just as well as the other customers.
Ph.Credit: Terrazza Sorriso
IYARA THAI CUISINE: this restaurant at 34 Piazza Milano is a great choice for lovers of East Asian cuisine. The dishes are made by three Thai chefs and Thai style prevails throughout the establishment, right down to the uniforms worn by the waitresses. If you're looking for an alternative to traditional Italian food, this is the place for you. There are a number of gluten-free options on the menu, which features sublime soups, hot sauces and plenty of spices. Generous portions, great beer and a warm welcome make this a great spot for evenings out with friends and they will keep you coming back for more.
Ph.Credit: Iyara Thai Cuisine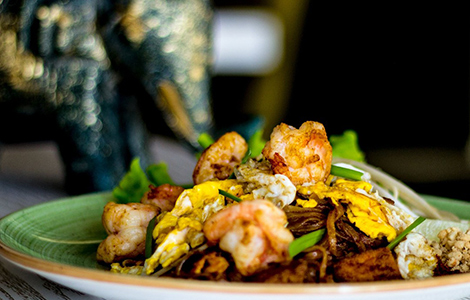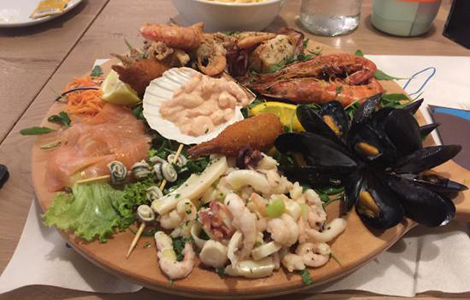 ATMOSPHERA: this is a perfect place for families, but it can cater to the needs of guests of all kinds. It is centrally located at 120 Via Bafile, just around the corner from Piazza Brescia. At Atmosphera you'll find welcoming, attentive staff and a varied menu. It is particularly renowned for its seafood dishes, such as spaghetti, a mixed grill or a choice, crispy mixed fry. It also has a great reputation as a child-friendly restaurant thanks to the courteous waiting staff, the kids' menu and facilities such as high chairs and a changing table in the bathroom. There are lots of great reasons to give it a try. Whether you opt for traditional dishes or gluten-free recipes, you won't be disappointed. The pizzas are delicious, too: they come with plenty of toppings but are light on the stomach. Although it is always very busy, the staff are quick and you will be seated at your table in no time at all.
Ph.Credit: Atmosphera
BUCINTORO: you can't go wrong at this restaurant, which you will find at 91 Via Silvio Trentin in Jesolo. It can cater to all kinds of needs, including requests for gluten-free food. Located in the town centre, it has a veranda where you can savour freshly caught fish in traditional cooked and raw dishes. The fabulous sliced tuna steak comes highly recommended, but the hors d'oeuvre and first courses are also superb. At the end of your meal, try the Zuppa Inglese. It's a dessert reminiscent of trifle that is particularly good here. Bucintoro is the perfect choice if you want to have lunch or dinner in one of the best known restaurants in Jesolo.
Ph.Credit: Bucintoro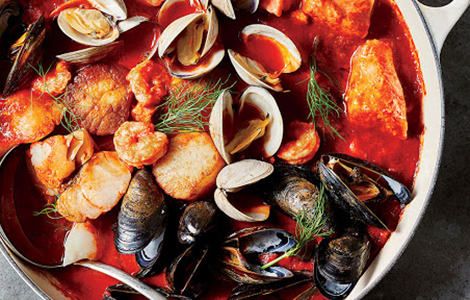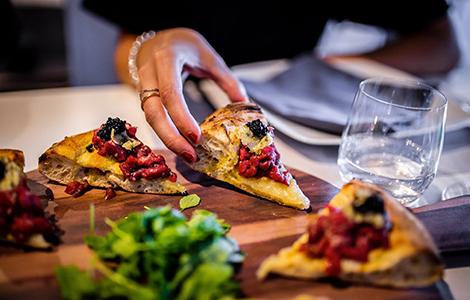 PIZZERIA NETTUNO: if you're looking for delicious gluten-free pizza in Jesolo, head to this stunning restaurant with sea views on Via Bafile XXIII° Accesso al Mare. They make the light, tasty pizza dough themselves. The restaurant is very popular among people who have to follow gluten-free diets because it caters to their needs with a range of other dishes in addition to pizza. Great attention to detail is shown throughout the finely appointed premises and the staff are quick and friendly. As well as the pizza, we recommend the delicious, crispy mixed fry and the cold seafood hors d'oeuvre, which are truly divine! The meals are complemented by the enchanting views of the light blue sea.
Ph.Credit: Pizzeria Nettuno
DA GUIDO: this sophisticated restaurant at 25 Via Roma Sinistra in Jesolo combines exquisite dishes that are cooked to perfection with impeccable service and an outstanding wine list. It has been run by the same family for generations and many famous people have dined there over the years. Savour the magical blend of an old-fashioned atmosphere and authentic culinary delights. The fabulously fresh seafood never fails to please. Items such as mussels, oysters, European bass and lobsters are presented in all sorts of creative ways, including with delicious desserts. If you're looking for a gluten-free restaurant in Jesolo, come and try the refined recipes that the chef can prepare for you.
Ph.Credit: Da Guido
Take your pick or try them all. You'll soon see that Jesolo is the place to go not only for fun, sun, sea and sand, but also for great food!