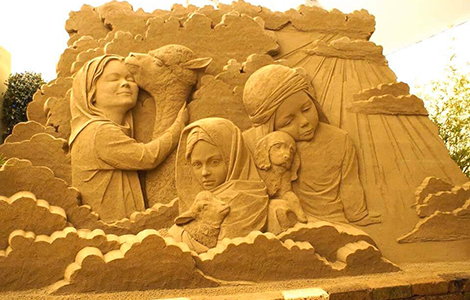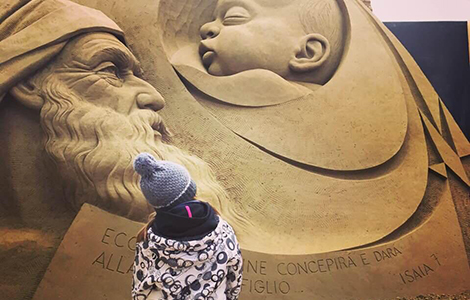 At 4.00 pm on Saturday 7 December 2019, the official opening ceremony will take place for the 18th Jesolo Sand Nativity: Italy's biggest sand nativity scene, which attracts thousands of visitors every year.
Featuring 9 large sand sculptures produced by 11 artists from all over the world using 1,000 m³ of sand, it plays a central role in Jesolo's Christmas celebrations. Located in Piazza Marconi in Jesolo Lido, it's free to visit and will remain open until 9 February 2020.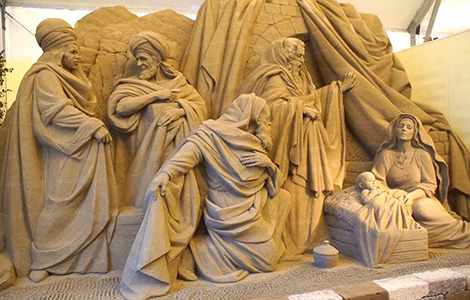 Jesolo's sand nativity scene is so famous that it's even been "exported" to other parts of Italy. In 2018, a sculpture went on display in Saint Peter's Square in Rome. This year, Jesolo's tradition of creating sand sculptures will be shared with Matera, the 2019 European Capital of Culture.
The theme for the 2019 sand nativity scene is the Beatitudes. Visitors will get a chance not only to admire its original, highly creative qualities but also to support good causes by making a donation. All of the money raised will be given to charity organizations and initiatives.
All of the Christmas events in Jesolo
If you're looking for festive fragrances, decorations and lights to get you into the Christmas spirit, Jesolo Lido is the place to be. There will be numerous initiatives and displays to make the whole town feel like a real winter wonderland.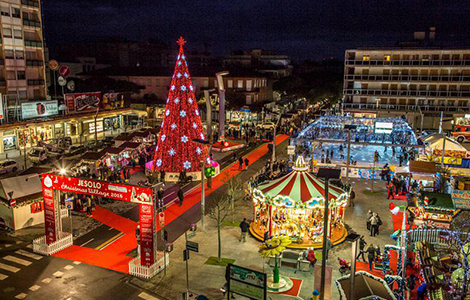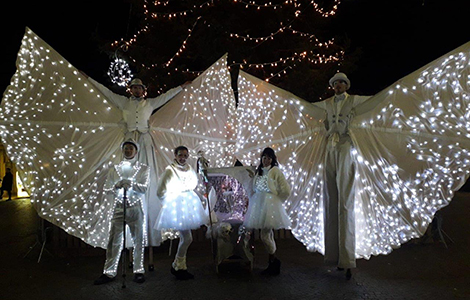 From 30 November 2019 to 6 January 2020, the area between Piazza Aurora and Piazza Mazzini will be filled with the white huts of Jesolo Christmas Village. As well as a marvellous Christmas market, it will also host concerts and other events. Thanks to the Village of Lights initiative, the whole town will be covered with festive decorations. Stars, a huge tree and shows will light up the streets until 4 January 2020.
Food lovers will be in heaven in the Chocolate Village in Piazzetta Casabianca, where they'll find artisan chocolatiers in 10 white huts, a Chocolate Library and a stage for events
The sea plays a big part in life in Jesolo and the festive period is no exception. The Winter Sea art and photography exhibition will be in Piazza Carducci from 8 December until 6 January.
Children can enjoy an interactive experience at the Christmas Farm: from 14 to 30 December 2019, they can visit Jesolo's Parco dei Cigni and the nearby heated marquee to learn all about what life was once like in the countryside. As well as taking part in workshops and games, they can meet lots of furry friends, including dogs, horses, sheep and donkeys.