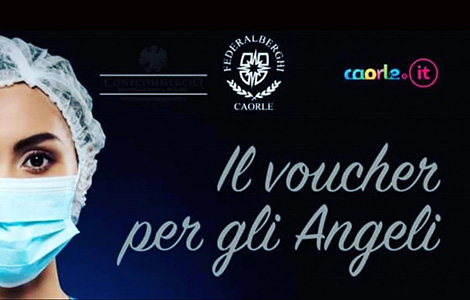 We of Lampo Group immediately liked the idea of the associations, particularly Federalberghi Caorle, to assign a "Holiday Voucher" to all those people who worked tirelessly against the effects of the Corona Virus, with responsibility and self-sacrifice.
We saw them heading with exhausting shifts, with the signs of the face mask on their skin, harnessed as astronauts to enter Covid departments an save lives. We are thankful to these new heroes, doctors and nurses in the first place, but also Law Enforcement and Civil Protection workers. A huge thank you from the bottom of our hearts for the work you did and are still doing.
Lampo Group, together with other touristic operators from different associations, wanted to give its contribute with a concrete action, offering together with a certain number of hotels rooms also free stays in apartment, in Caorle Lido Altanea. A moment of leisure and vacation to these people and their beloved ones as recognition and appreciation of their sacrifices.
The idea was greeted by them with great enthusiasm to the point that the availability offered immediately ran out. We therefore thought, for those who were excluded from this possibility of hundreds of accommodations offered for free, to make available other stays in two or three-room apartments at favourable prices.
Are you a health operator who worked in the Covid department or a member of the Law enforcement or the Civil Protection? Weren't you able to take advantage from the "Voucher for the Angels"? Don't worry: contact us via phone at the 0039.0421.299683 or via mail altanea@lampo.it, and give us the opportunity to verify your membership to the above categories, we will be happy to offer you interesting solutions and a special discount of 30% on the price of your holiday.