Public beaches are ideal for tourists who like to enjoy their time by the sea in total freedom, without any restrictions. You can kit yourselves out however you like and – most importantly of all – a spot on the sand is completely free.
There are lots of public beaches in resorts all along the Northern Adriatic coast. Today we'd like to tell you about Porto Santa Margherita near Caorle and its public beach.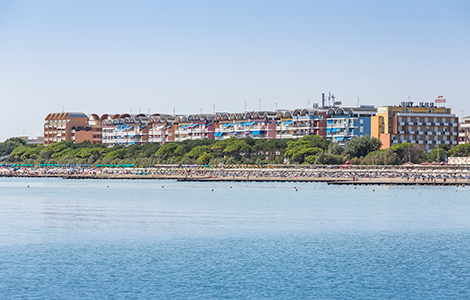 Porto Santa Margherita beach
The peaceful beach resort of Porto Santa Margherita is just a few kilometres from the town of Caorle. It is famous for its colourful seafront buildings, its modern, magnificently equipped marina, and the vast expanse of sand stretching down the coast from the mouth of the Livenza River, where there are outstanding facilities and a number of public beach areas.
It goes without saying that you can take your pick from the range of beach establishments that provide bathrooms, umbrellas, deck chairs, sun loungers, showers, children's play areas, bars, seafront kiosks and much more for their guests. Nonetheless, there is nothing quite like the freedom of strolling along the shore in the public beach areas on this part of the coast.
We'd like to recommend what we consider to be two of the most beautiful areas: – The first is near the breakwater in the mouth of the Livenza River and it is perfect for those who like a little greenery because there's a pine wood behind it. – The second is near the bend on Viale Lepanto.
Take your own umbrella and the rest of your kit down to the sand and you can have a delightful few hours or even a whole day by the sea on these two public beach areas. Have fun playing barefoot on the sand with your children, run around by the shoreline and then dive into the crystal-clear water for a bracing dip. Unwind on your own sun lounger or air bed and listen to the relaxing sound of the waves on these spellbinding public beach areas. Whether you spend just a few hours or a whole holiday there, they're wonderfully accessible because they're easy to reach on foot and there's a car park a short distance away.