Summer's snuck up on us again. Are you feeling the urge to take a break from the everyday routine? Why not start organizing your holiday and let warm rays of summer sunshine lift your spirits as you daydream about what you're going to do?
Take your pick from Agenzia Lampo's detailed selection of tourist attractions, restaurants and itineraries. It's time to book a holiday with Agenzia Lampo and enjoy plenty of well-deserved rest, relaxation and adventures!
If the blue horizon over the sea leaves you spellbound, Italy's the perfect place for you. Of all the countless dazzling destinations, Agenzia Lampo would like to present Caorle: a town with a breathtakingly beautiful coast that's a treasure trove of traditions, culture and exquisite local cuisine. Savour numerous specialities and a warm welcome.
Want to know what to do and see during your holiday in Caorle? Find out everything you need to know, including a number of reasons why you'll fall in love with Caorle!
Getting to Caorle: where it is and how to get there 
If you're planning on spending your holiday here, first you need to know how to get to Caorle! The most convenient way to get here and get around is definitely by car, which is the means of transport that gives you the greatest freedom. If you're worried about where to leave your car, here's some information about places to park in Caorle. You can also travel to Caorle by train, bus or plane.
When travelling by car, exit the A4 motorway at either San Stino di Livenza or Portogruaro (depending on the direction you're travelling from), then follow the signs for Caorle on the SP59 provincial road for approximately 25 km, until you reach your destination.
Caorle doesn't have a train station, but if you travel to Portogruaro-Caorle station on the Venice-Trieste line, San Stino di Livenza station or San Donà di Piave station, you can then take a bus that'll get you to Caorle in about half an hour.
It's very easy and convenient to find a bus (usually run by ATVO) to take you from San Donà di Piave, Portogruaro, Mestre or Venice to Caorle.
If you decide to fly, the nearest airports are in Venice and Treviso. From there, you can hire a car or travel by bus to Caorle.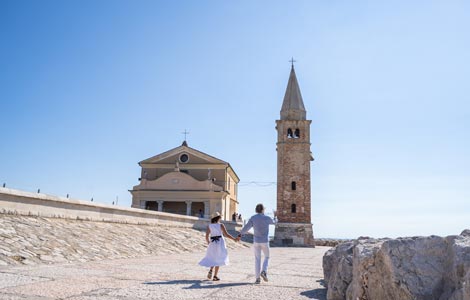 Getting about in Caorle 
Once you get to Caorle, there are a number of services to help tourists to get around easily in town.
As well as taxis and private hire vehicles, it goes without saying that there are a number of bus lines to take you to the nearby resorts of Porto Santa Margherita, Duna Verde and Lido Altanea. In addition, in the summer season from May to September, there's a handy ferry service that you can take over the Livenza River to Porto Santa Margherita.
The Orient Express land train that departs from Piazza Papa Giovanni XXIII is a wonderful way to discover the stunning sights in Caorle. The service is available from May to September (Tel. +39 347 7958776).
Why not admire the incredible landscape as you ride about on a bicycle? Feel the freedom of exploring Caorle on an amazing e-bike adventure: satisfy your curiosity and discover the hidden treasures of the gorgeous beach resort with the E-bike Tour service in Caorle.
There's no need to worry if you don't have your own bike because thanks to the Mobike Bike Sharing service in Caorle, tourists can get around using an innovative, smart means of transport with zero emissions. Download the free "Movi by Mobike" app to find the nearest bicycle to you, then simply unlock it using the QR code and start riding!
Caorle's spectacular shore: unmissable beaches 
As well as multi-coloured houses in its old town centre that never fail to beguile tourists, Caorle boasts a number of absolutely beautiful beaches whose unique, unmistakable charms will leave you lost for words.
For a number of years, they've held both a Blue Flag (for being clean, accessible and eco-friendly) and a Green Flag (for child-friendly beaches recommended by Italian paediatricians). Discover all the public beaches in Caorle with Agenzia Lampo!
– Levante Beach is very spacious and has a number of little havens of greenery dotted along it with palm trees, bushes and flowers, as well as a place called the White Oasis, with deluxe gazebos, sun loungers, coffee tables and sofas.
– There are two parts to Ponente Beach. Found near the Church of the Madonna dell'Angelo, the highly picturesque first part runs alongside the famous "living rocks", which have been sculpted by artists from all over the world over the years. Tidy rows of umbrellas and sun loungers are spread across the western, broader part of the beach, where tourists relax, play and have fun. Some people like to swim or take a pedalo out to the floating platforms a short distance from the shore and sunbathe in the middle of the sea.
– Porto Santa Margherita Beach is west of Caorle on the other side of the Livenza River. It takes just a few minutes to get there with the handy ferry. A long terraced promenade runs along this beach and marks the edge of the sandy shore, which stretches down onto Lido Altanea beach and then Duna Verde beach.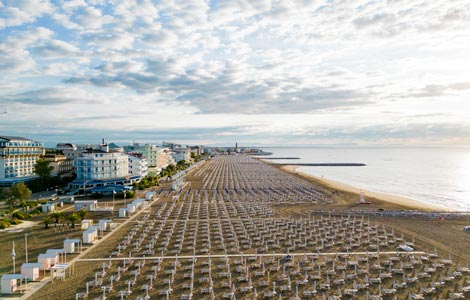 On all of these beaches, you can find areas that host entertainment or fitness activities, umbrella and sun lounger hire services, areas especially for dogs, kiosks, showers and other facilities, including ones for disabled people and anyone with mobility issues. Ramps and special wheelchairs with wide wheels ensure that it's easy for them to get to their spots on the beach and down to the water.
It goes without saying that on all of these beaches there's a lifeguard service to keep everyone safe.
Which should you choose? There are so many and each one has its own unique, inimitable charms. The best bet is probably to pick the one nearest your accommodation, or maybe even to visit them all!
Unwind in the sunshine: public beaches in Caorle
If you've brought an umbrella and deck chair from home or you simply want to stretch out on the sand with a towel, there are a number of public areas of the beach in Caorle where you can take it easy. Check out the following areas:
– The "Sacheta" area on Levante beach is unquestionably one of the most popular because it's near the old town centre and the famous Church of the Madonna dell'Angelo.
– "Falconera" public beach is more suited to people who like strolling along the shore – especially at sunrise – and lovers of sports such as surfing, windsurfing and kitesurfing.
– The public beach near the lighthouse at the westernmost end of Caorle beach is right next to the Santa Margherita municipal campsite.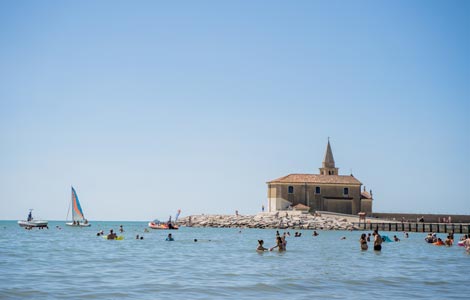 What to do in Caorle: keep yourselves amused on holiday
Caorle is a little beach resort in Veneto with an old town centre that's renowned for its mesmerizing, brightly coloured houses. It stands out from other seaside destinations due to the appeal imparted by its maritime origins and traditions.
It's an ideal destination for everyone who loves not only spending time by the sea but also culture and history, with a comprehensive range of accommodation and facilities to satisfy guests of all kinds: young people, couples, families and older holidaymakers will all feel at home in Caorle.
History and culture in Caorle
As well as unwinding in the sunshine for hours on a huge beach that stretches all along the coast, in Caorle's enchanting old town centre visitors can look around delightful streets and squares, a Cathedral that was built in 1038 and has a round bell tower, the Sanctuary of the Madonna dell'Angelo right next to the beach and the astounding "living rocks" looking out over the sea, which are like an outdoor museum.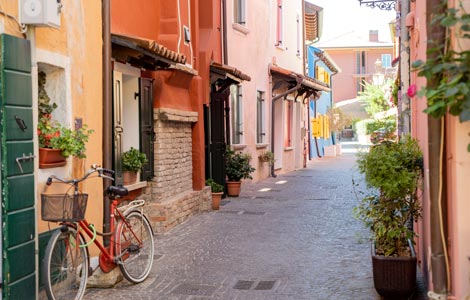 There are a number of museums that are worth visiting, especially on rainy or very cloudy days. Among them are:
– The Liturgical Museum, which is open in the evening in the summer. Visits must be booked in advance by calling Mrs Pavan on +39 328 01316714. Once a private chapel for bishops, it now contains vestments, ancient relics and numerous valuable copper and silver items. One of the rooms is almost entirely filled with vestments that belonged to Pope Saint John XXIII.
– The Maritime Archaeology Museum at 80 Via Strada Nuova (tel. +39 0421 83149), which looks back at the history of Caorle and the surrounding area from the Bronze Age to the present day. It's an engaging experience for adults and students of various ages, with an engrossing story to tell.
Rural society and the invaluable natural heritage of Vallevecchia
When you're exploring the secrets and treasures of the lagoon, don't miss out on a visit to the "fishing village" with its distinctive "Casoni": old homes made of reeds. You can get there by bike or boat.
There are two little farming settlements in the magnificent, fascinating surrounding countryside:
– San Gaetano is a little village with a hundred or so inhabitants. In the 1960s it was very popular among members of the jet set such as Henry Fonda and Ernest Hemingway, who often stayed with the landowners: the barons of the noble Franchetti family. Their country house can still be seen today, although it is slightly run down. The local people live in the farmhouses, which have been renovated. There is a village festival on 7 August every year, with food and wine stands and music.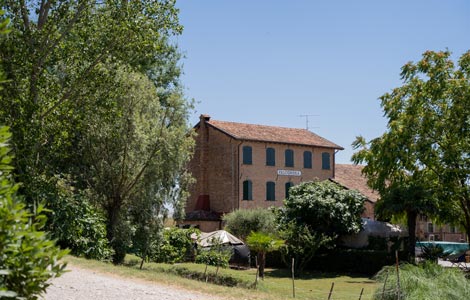 – Cà Corniani is a rural centre that lies to the North of Caorle, between the Livenza River and the Brian Canal – Livenza Morta branch. It stands in an area of former malarial marshland that was converted by its owner, Assicurazioni Generali, during the first comprehensive land reclamation project in Veneto. The original winery has been renovated and it now hosts local wine tasting Taking a bike tour all around the estate is a very interesting experience and there are various species of birds and animals that you might spot on the way.
– If you're in Caorle, make sure you take a trip to Vallevecchia and Brussa. Bird watching is one of the most popular activities in these recently reclaimed wetlands, where numerous birds live and nest or stop off on their migration routes. As well as many species of birds such as ducks, herons, cranes, geese, swans, terns, hawks, buzzards, red-crested pochards and grebes, you might come across magnificent roe deer, hares, foxes, badgers and fallow deer. Once you've got through the wetlands, you'll reach Brussa beach: a pristine, totally natural stretch of sand where you can swim and sunbathe. A whole host of plant species can be admired in the undergrowth of the thick pine woods, including some striking wild orchids.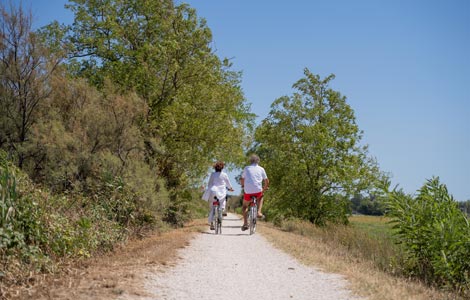 Caorle – Sport City
Thanks to its exceptional sports facilities, Caorle is the ideal destination if you like to stay in shape on holiday. For a few years now, it's been nicknamed "Sport City" thanks to its many venues, which often host international sporting events.
The list of facilities includes the "PalaMare" sports hall, the municipal stadium, the "PalaExpomar" centre (which is used for large sporting and cultural events), the municipal swimming pool, tennis courts, an 18-hole golf course and a beach that's ideal for activities such as surfing and sailing.
Caorle at sunset: stroll along the seafront
No holiday in a beach resort would be complete without a stroll along the seafront. Smelling the salt as you breathe in the sea air and fill your lungs with healthy iodine is always a pleasant experience when you're by the coast.
You can do it by yourself during an evening walk, go jogging in the morning so you can enjoy the first rays of sunshine as you exercise, or get your partner, friends or family to join you… Take your pick! In addition to the sea and the beach, in Caorle you'll also be treated to the sight of the spectacular "Living Rocks" and the Church of the Madonna dell'Angelo, which has undergone important restoration and maintenance work this year. It's a real architectural gem that's also steeped in spiritual and romantic appeal. You won't be able to resist the urge to take a selfie against this beautiful backdrop!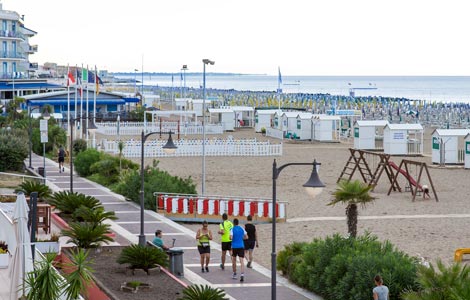 Another unforgettable and highly distinctive feature of Caorle town centre is the fishing harbour, where the boats are moored in the day, ready to head out to sea at night. If you take an evening stroll down on the quay, you can get a taste of local traditions as the light of the sunset and the lamp posts lining the harbour bounces off the water in endless reflections. Every day the fresh catches from the boats are hauled ashore at dawn, then delivered to the finest restaurants in town. Fishing makes a significant contribution to the town's economy and it needs to be carefully managed in order to ensure that it is a sustainable activity that does not harm the ecosystem. With this in mind, the town council has approved a project that is based on the concept of sustainability and locally sourced products.
The harbour is one of the most charming parts of Caorle and you'll come across it as soon as you approach the old town centre. It's a great place to take a stroll for 15 to 20 minutes and sample the authentic side of Caorle, among quaint street lights reflected in the water, fishing nets that are being repaired and picturesque rows of boats.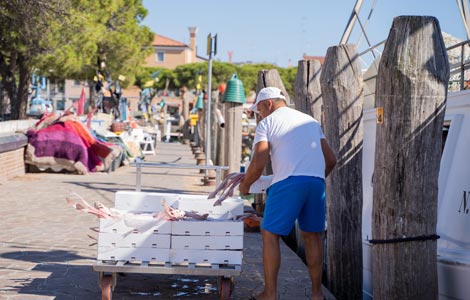 Fun and adventures in Caorle: activities for people of all ages 
A holiday in Caorle is a perfect opportunity to leave all your worries behind and focus on the well-being of your body and your mind. Whether you're looking for thrills and spills or you want to take it easy, there are countless activities to suit all tastes and age ranges on offer in the town.
You can choose from a wide selection of activities in Caorle:
– Golf is definitely one of the most relaxing options. Just 5 km from Caorle is the marvellous 18-hole "Pra' delle Torri" golf course, which stretches right down to the sea. As a Caorle Lido Altanea customer, you'll get 40% off the green fees. Ask at the reception of your accommodation for further details. Find out more about sport and active holidays in Lido Altanea!
– There are endless wonderful ways to spend time in the sea in Caorle. Windsurfing, canoeing and snorkelling are just some of the exciting activities on offer. Whether you choose to plunge into the crystal clear depths, ride the waves or explore the water, it'll be an exhilarating, unforgettable experience! Another option is fishing tourism on local fishing boats. Accompanied by experts, you'll learn to follow the rhythm of the sea, find out about the habits of fish and get to know this side of Caorle better.
– If you like the idea of exploring by bike, we recommend one of the many e-bike tours that are available. Even if you aren't in tip-top shape, you can enjoy the ride without working up too much of a sweat thanks to the pedal assist system. Discover the delights of the local area with a group of people and an expert guide. There are numerous routes, covering everywhere from the town centre to the lagoon. See here for more information.
– If you're looking for a fun evening's entertainment for children, Caorle Luna Park (next to "Aquafollie" water park) is an amusement park with all kinds of attractions for the whole family, from the famous Wacky Worm coaster, a bigger rollercoaster and a Western-themed train to bumper cars and a hall of mirrors. A great time is guaranteed for the whole family. Don't forget to download the vouchers for the attractions.
Caorle's culinary delights: where to enjoy authentic local cuisine 
Food lovers can find numerous restaurants among the narrow streets in the old town centre, with a variety of menus to suit all price ranges, from more expensive options to ones that are affordable for everyone.
There are also lots of bars, pubs and clubs in the town centre where you can enjoy traditional wines, beer, amazing cocktails and ice cream, while maybe also listening to live music.
At the village festivals that take place near Caorle in spring and summer, you can taste and buy local food and wine, as well as souvenirs and artisanal goods.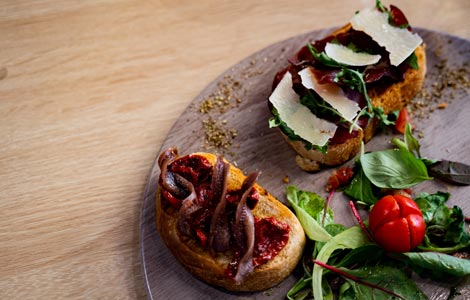 The classic cuisine largely revolves around seafood and the fish dishes served as starters, first courses and second courses are all absolutely delicious! At least once, it's interesting to take a look around the colourful fish market in Caorle harbour, which is open to the public between 8:00 am and around 11:00 am. During "whisper auctions", the catches are sold in crates to local restaurants and hotels, as well as the general public.
Find out more about some of the restaurants, where to eat in Caorle and where to get the best ice cream after dinner, from the top ice cream parlours in Caorle!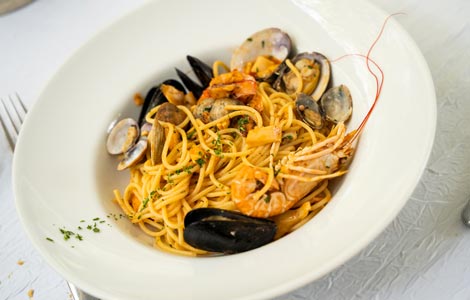 Where to stay in Caorle: choose the comfort of Lampo accommodation 
Have we captured your imagination with our overview of the many different activities to do on holiday in Caorle? Book your accommodation now!
If you're looking for great places to stay during a beach holiday, you're bound to find the ideal solution for you and your family among the apartments for rent in the heart of Caorle or the nearby resorts of Porto Santa Margherita and Lido Altanea.
Enjoy the endless freedom of doing what you want, when you want throughout your stay.
There are so many advantages to choosing an apartment! You can wake up with the sunlight streaming into your room, get breakfast ready in the kitchen without a care in the world and spend your time however you like, without having to fit in around the fixed schedule of a hotel.
In Caorle you can find a vast range of apartments to rent, each with its own charms and style: experience your holiday in your own way. Summer's already here, so book now!
Take a look at our apartments for rent in Caorle, pick the option that best suits your needs and get ready for an unbeatable holiday in Caorle.