Summer's just around the corner and we're already dreaming of healthy strolls on the shore, playing on the sand and unwinding under a beach umbrella with a good book, a cold drink and our earphones in so we can listen to our favourite playlist. Although there'll also be plenty of other things for you to enjoy during your holiday in Caorle – including a nice walk through the old town centre, a look around Caorle cathedral, a tour of the traditional fishermen's homes known as Casoni, a trip to Venice or a seafood dinner at a traditional restaurant in Caorle – no stay here would be complete without a little time working on the perfect tan, as you stretch out and relax on a comfortable sun lounger under an umbrella.
With that in mind, make sure you know how to book a beach umbrella easily so you can make the most of your time on the sand.
How to book a beach umbrella in Caorle
We've put together a few tips to make it easier for you to look for, choose and book a spot on the beach. Below you'll find a number of different ways to book umbrellas on the beaches in Caorle.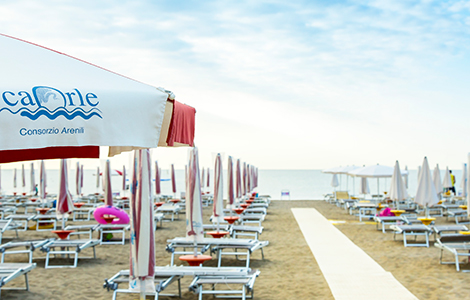 Book online
Making an online booking for a beach umbrella in Caorle couldn't be easier: simply go to www.caorlespiaggia.it and click the "Book now" button, then you can:
– Enter your chosen dates
– See which options are available in your chosen section
– See the prices, which are updated automatically by the website for the chosen row and the dates of your stay.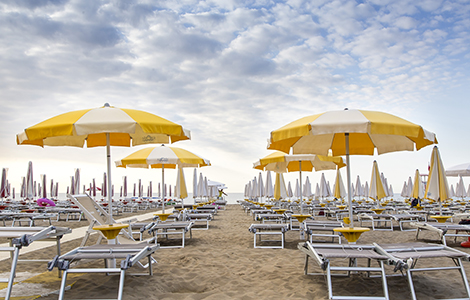 In addition, if you select the "Dog beach" box you can specify that you want to book a spot on the sand for you and one for your pet on one of the two dog-friendly beaches in the resort, which are found in section 8P of Ponente beach and section 5L of Levante beach. If you'd like more information about dog-friendly beaches and the facilities provided on them, take a look here
In addition, if you click here you can find out all about the sections into which the Ponente and Levante beaches in Caorle are divided, along with lots of other useful information.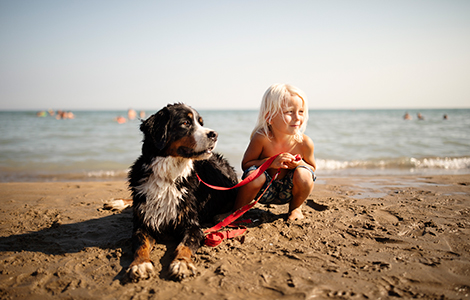 Booking apps
There are no apps for booking spots on the beach in Caorle, but the Caorle Spiaggia website is extremely mobile friendly so you can book an umbrella in Caorle on your smartphone wherever you are and whenever you like.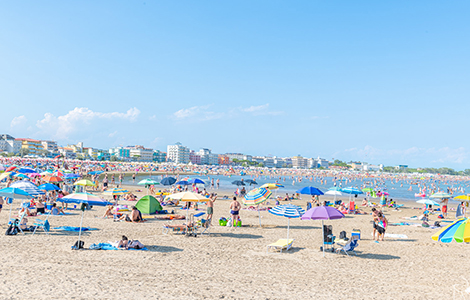 Booking at beach establishments
Of course you can always just decide to book your spot on the beach once you get to Caorle. Simply pick an area, go there and book directly at the ticket office in the kiosk.
Among the most popular areas, we would recommend:
– On Ponente beach: Don Pablo, Calligaro, Cinganotto, Stella Marina, Ciao Nì, White Oasis (which has a pool), and La Vela
– On Levante beach: Havana, Gabbiano, and Green Oasis
Alternatively, you can book an umbrella by going straight down to the beach and asking a bathing attendant.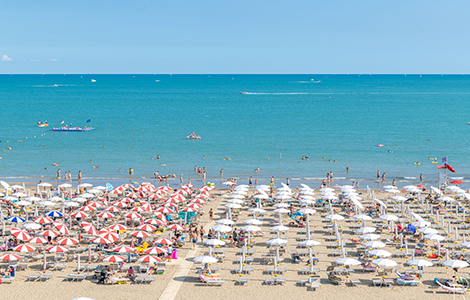 Booking a beach umbrella with Agenzia Lampo
All customers who book a holiday with Agenzia Lampo can also book a beach umbrella through us. Simply contact our office in Caorle by calling +39 0421 84059 or emailing caorle@lampo.it and ask to add a spot on the beach to the reservation when you book your apartment. Depending on availability (and while places last), we'll book a spot for you that's as close as possible to the apartment that you've booked.
When you book as an Agenzia Lampo customer, you can get a special standard price for a spot on the beach in Caorle all season long:
– First five rows: €85 a week
– From the sixth row back: €70 a week
What's more, if you book a stay with us that starts no later than 28 May, you can take advantage of a special deal and book a spot on the beach for €10.00 a day.
Public areas of the beach: what you need to know
Between the areas that are subject to payment on the Ponente and Levante beaches, the town council provides stretches of sand that are free and open to the public. There are also a number of other public areas on the coast, one of the most picturesque of which is the "Sacheta" area. It's near the Sanctuary of the Madonna dell'Angelo and just a short distance from the town centre.
If you love strolling at the first light of dawn – even when you're on holiday – then we recommend the Falconera public beach, where you can watch the sun come up over the sea along with the numerous surfers out among the waves. They come here in droves because this stretch of coast is ideal for surfing, windsurfing and kitesurfing.
If you prefer Lido Altanea, as well as the private sections of the beach, you can find a public area there. Spanning a large portion of the sand, it's a wonderful place to relax in the sun on stunning summer days.
You don't need to book or pay to spend time on the public areas of the beach.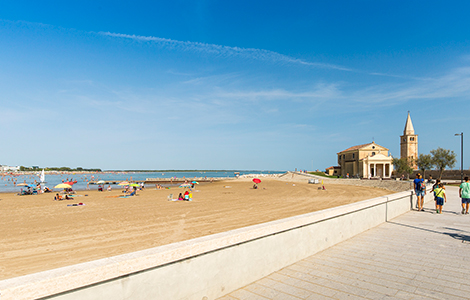 Booking beach umbrellas in Caorle: how to choose
In 2022, Caorle introduced a maximum limit of four (4) people under each umbrella, so bear that in mind when you book!
Here are a few tips on how to choose your spot on the beach wisely:
– Always book your spot on the beach at the same time as your holiday, so that you have a wide range of options and you can find the best location at the best price.
– Book a spot that's as close as possible to the apartment or the hotel where you're staying. It's easy to walk or cycle to Caorle beach from anywhere in the resort but it'll make life simpler for you if you find somewhere near your accommodation, especially if you're staying with your whole family.
– Don't drive to the beach, because you can easily get there on foot or by bike. As well as avoiding the traffic in the town centre, walking or cycling is a great way of getting a little exercise. It's good for you and it's good for the environment, too!
All of the beaches in Caorle have cutting-edge facilities, including umbrellas, sun loungers, changing cubicles, kiosks and bars where you can find refreshments, play areas for children in every section, entertainment areas, pedestrian areas with accessibility certificates, recycling areas and much more besides.
So what are you waiting for? Call us now to book a holiday and a spot on the beach in Caorle!