There's nothing better than spending a day at the beach when you're on holiday at the seaside. However, sometimes the clouds roll in and it starts raining. Don't let the bad weather get you down, because the vast range of indoor activities in Jesolo means you can have just as much fun on gloomy days.
In this article, you can find out about some amazing places to explore during a rainy day in Jesolo.
Where to go shopping in Jesolo
When rain ruins your plans on holiday, you can't beat a bit of shopping. There are all sorts of options for shopping lovers in Jesolo, from a nice long stroll down its colourful, always bustling pedestrian street stretching out for no fewer than 13 km, to a trip to the nearby shopping and outlet centres where you'll be spoilt for choice by the huge range of items for sale, including clothing, footwear, cosmetic products, toys and goods for the home and garden.
Along the main road
The main shopping street in Jesolo is called Via Bafile and it's packed with shops of all kinds. You'll find fashion boutiques, jewellers and shops selling items such as jeans, shoes, swimwear and souvenirs, where you can buy something special to remind you of your holiday in Jesolo, and much more besides.If you're feeling peckish and you want to take a break, you can enjoy the delectable selections in the outstanding cafés, bars, restaurants, pubs and ice cream parlours.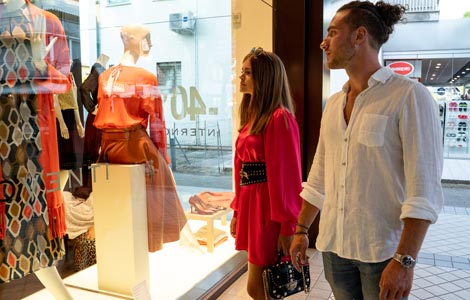 Shopping and outlet centres
Don't despair if you haven't found what you're looking for in the multitude of little shops, because you can go to Jesolo's shopping and outlet centres. There's an enormous selection of big-name stores, with special offers and great deals all year round. It's a marvellous opportunity to update your wardrobe or buy gifts for family and friends.
The main centres include:
– LAGUNA SHOPPING CENTRE: located in Piazza Venezia near the central Piazza Brescia, this is the biggest shopping centre in Jesolo. Open from 9:00 am to 8:00 pm from Monday to Sunday, it contains a supermarket offering great value, has very friendly staff and provides parking for cars and bikes.
– I GIARDINI DI JESOLO: this retail park can be found at 47 Via Piave Vecchio.
It's open from 8:30 am to 9:00 pm from Monday to Saturday and from 8:30 am to 8:00 pm on Sundays. There's a broad selection of products at great prices, including fresh fruit and vegetables, a butcher's counter with lots of choice for barbecues with friends, delicious cheese of all kinds and a large deli counter with a variety of foods that are ready to eat, which is perfect when you aren't in the mood to cook at lunch or dinner time. You can find all of this in the Tosano hypermarket at I Giardini di Jesolo, which has an indoor car park and handy escalators.
– NOVENTA DI PIAVE DESIGNER OUTLET: located just 20 minutes from Jesolo, it contains 160 shops, cafés, bars and restaurants. It's open from Monday to Sunday, from 10:00 am to 8:00 pm.
You can get great deals on products by all the big fashion labels, including Prada, Gucci, Fendi, Cavalli, Nike and Guess. There's a large car park. It's worth going just to do a little window shopping and have an aperitif!
What to do with kids at the seaside when it's raining
If you're on holiday with children, there's no need to worry about them getting bored when it rains!
Jesolo's home to a number of indoor attractions that are perfect for keeping kids amused.
Tropicarium Park
One wonderful thing to do is go and see the incredible creatures at the Tropicarium Park. Explore a tropical world full of exotic animals such as snakes, Nile crocodiles, alligators, sharks, monkeys, birds and colourful fish. There's also an indoor play area where children can let off steam and enjoy themselves even when the weather's bad.
The park's centrally located, at 123 Viale Aquileia. Easy to reach by car, bus or bicycle, it's open every day from 10:00 am to 10:00 pm. For further details, visit the website.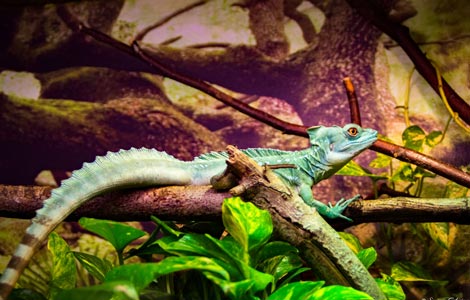 The Science Factory in Jesolo
The Fabbrica della Scienza (Science Factory) is a large educational science museum where children and people of all ages can have fun as they learn thanks to practical experiments and interactive activities. 100 scientific experiments and more than 200 displays about water, maths, illusions, sound and much more besides await young explorers who want to discover the world of science in an engaging, stimulating way.To find out more, take a look at our article all about it.
The exhibition is in the same location as the "Tropicarium Park", so you can buy joint tickets for admission to both of them. You can find here full details.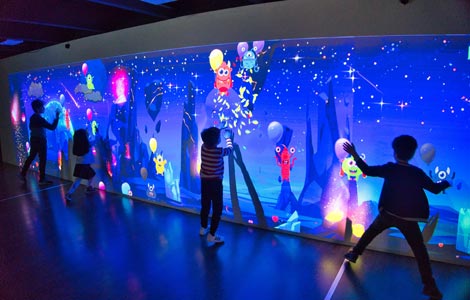 Jmuseo – Jesolo Municipal Museum
1 June 2023 saw the opening of a big new attraction in Jesolo: a municipal museum with a breathtaking architectural structure spanning five floors, which can host a number of exhibitions.From 1 July, you can visit "The Land of the Giants": an exhibition all about dinosaurs and other enormous creatures that roamed the Earth between the Jurassic and the Ice Age, featuring life-size models, finds and much more besides. It's an incomparable experience for young and old alike.The museum is at 1 Via Aldo Policek, near the Laguna Shopping Centre. It's open from Tuesday to Sunday, from 6:00 pm to 11:00 pm.
Tickets cost €7.50 for adults and €5.00 for children aged 10 and under. It's free for children under 1 metre tall. For further information: info@jmuseo.it – Tel. +39 339 5809773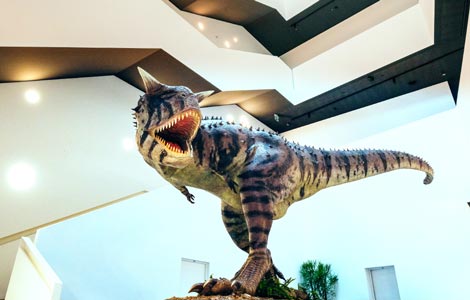 The taste of Jesolo: stop for a bite to eat
A rainy day is a perfect opportunity to enjoy the delicious local cuisine in Jesolo. There are numerous restaurants, trattorias and pizzerias where you can try traditional Veneto dishes. Don't miss the chance to sip a delicious glass of wine and savour the culinary delights from the area.When you're looking for mouth-watering aperitifs or exceptional seafood for lunch or dinner, some of the best places with indoor and outdoor seating include: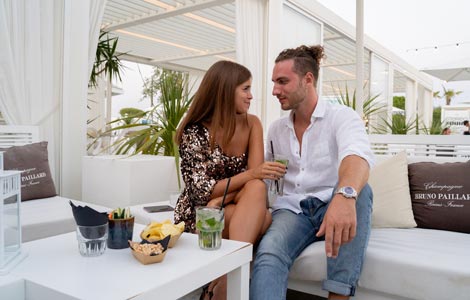 – "Al Botanico" at 365 Via Bafile in the centre of Jesolo, which is a cocktail bar with pleasant, finely appointed premises and a large garden. Its friendly, accomplished staff serve superb aperitifs and snacks in sophisticated surroundings as delightful music plays in the background. Dogs are welcome and water and biscuits can be provided for them!
– "Terrazzamare" at 1 Piazzetta Faro in Jesolo is a sophisticated bar and restaurant that was recently renovated. Take it easy and unwind as you sip wine or one of the incredible cocktails and enjoy the picturesque views of Jesolo's iconic lighthouse. The restaurant serves delectable dishes made with freshly caught fish and it can be hired as a venue for wedding receptions or other private events.
– "Al Traghetto" restaurant onVia Massaua in Cortellazzo serves traditional cuisine, fantastic grilled fresh fish, choice seafood hors d'oeuvre with shellfish, boiled fish and many other Veneto specialities. The desserts are also truly exquisite! It's all thanks to the premium ingredients, which produce unbeatable results.
– "Da Guido" restaurant at 25 Via Roma Sinistra (the road that leads to Jesolo) combines comfort and style, with lots of impeccable detailing. The menu revolves around seafood and meticulous use of wholesome ingredients to produce authentic, traditional culinary delights. It has a particularly impressive selection of wine and champagne in its cellar.
– Customers flock to the recently opened "Trattoria dall'Oste" at 191 Via Bafile in Jesolo Lido to enjoy the exceptional cuts of meat from all over the world.
The young, friendly waiting staff are always happy to make recommendations about the meat and the choice of wine to go with it.
Read this article to find out about more restaurants, or check out the best places for an aperitif.
Jesolo on a rainy day: visit nearby cities
If you can get around by car or bus, one interesting option when the weather's bad is to go for a day trip.
Below you can details of some stunning nearby cities you might like to visit.
Visit Venice: the city on the water
Jesolo is just a few kilometres from Venice, a city like nowhere else on Earth. Don't let the rain stop you! Take a ferry from Punta Sabbioni (approximately 20 km from Jesolo Lido) or catch a bus and experience the magical atmosphere of the city on the water.Admire the buildings lining the canals, stroll through the narrow, picturesque streets and cross the beautiful bridges joining together the 118 islets on which the city is built. No one can resist the urge to take a few selfies with the "Bridge of Sighs", the "Rialto Bridge" or the magnificent "Saint Mark's Basilica" and "Doge's Palace" in the background.For the ultimate tourist experience in Venice, we recommend a romantic gondola ride so you can see this peerless gem of a city from a unique point of view, and a stop at one of the many Bacari (inns) for a spritz with cicchetti: delicious canapés topped with stockfish, prawns, prosciutto and other delicacies.
To find out more about how to get to Venice from Jesolo, read this article.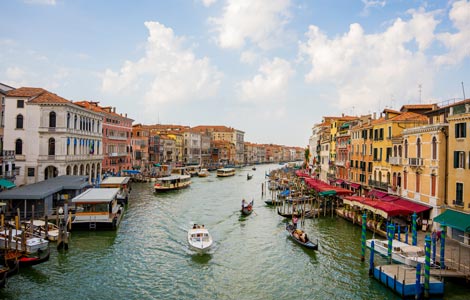 Towns and cities to visit near Jesolo
If you'd like to explore the surrounding area, Jesolo is strategically located within easy reach of lots of towns and cities with a wealth of art, history and traditions.
Treviso
If you want to take a trip to Treviso, it takes just 50 minutes to get there. It's a visitor-friendly place with waterways flowing through the well-preserved old town centre, where beautiful churches and other buildings can be found. If it's raining, the numerous porticoes will provide you with shelter as you wander around the city.Don't miss Piazza dei Signori and Palazzo del Podestà, Torre Civica, Treviso Cathedral (which has seven domes and contains the Malchiostro Annunciation painted by Titian) and Isola della Pescheria: an island where the colourful fish market is held. As well as visiting some of Treviso's other beautiful churches and a number of museums, make sure you take a break and enjoy some pork sandwiches, cicchetti or fried seafood complemented by a refreshing glass of Prosecco.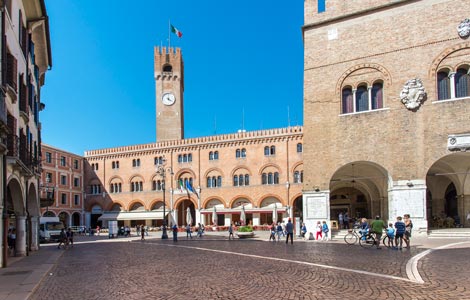 Padua
Alternatively, head to Padua. Home to the Basilica of Saint Anthony and Giotto's frescoes in the Scrovegni Chapel, this famous tourist destination is around an hour and a quarter from Jesolo.It has a number of large, beautiful and vibrant squares, such as Piazza delle Erbe and Piazza della Frutta – which are joined together by a covered passage called the "Volto della Corda" – and the huge Prato della Valle, which is second only to Red Square in Moscow in terms of size. This architectural wonder contains a canal with an island in the middle of it and no fewer than 78 statues of famous historical figures lining it.Looking out over Piazza delle Erbe is the awe-inspiring Palazzo della Ragione. Frescoes completely cover the walls of the great hall inside, which is 80 metres long and 27 metres wide.If it isn't raining too hard, make sure you look around the marvellous Botanical Garden. Created in 1545, it's the oldest university garden of its kind in the world and a real haven of biodiversity, with a selection of 3500 plant species.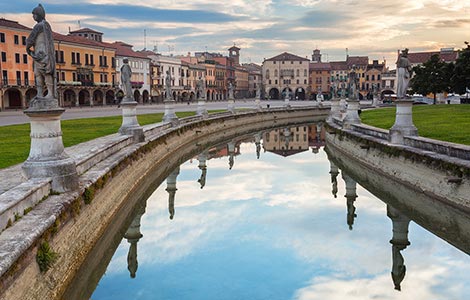 To find out about other interesting places to visit, read these articles: Towns and cities to visit near Jesolo and Where to go for a day out in Veneto.
As you've seen, there are all sorts of wonderful ways for adults and children to spend a fun, interesting day in and around Jesolo, even when it rains. So don't despair next time grey skies ruin your plans to go to the beach. Pick one of these options and make the most of your stay in Jesolo, no matter what the weather's like. Have a great time and keep track of all the activities on offer by reading the updates in our blog!